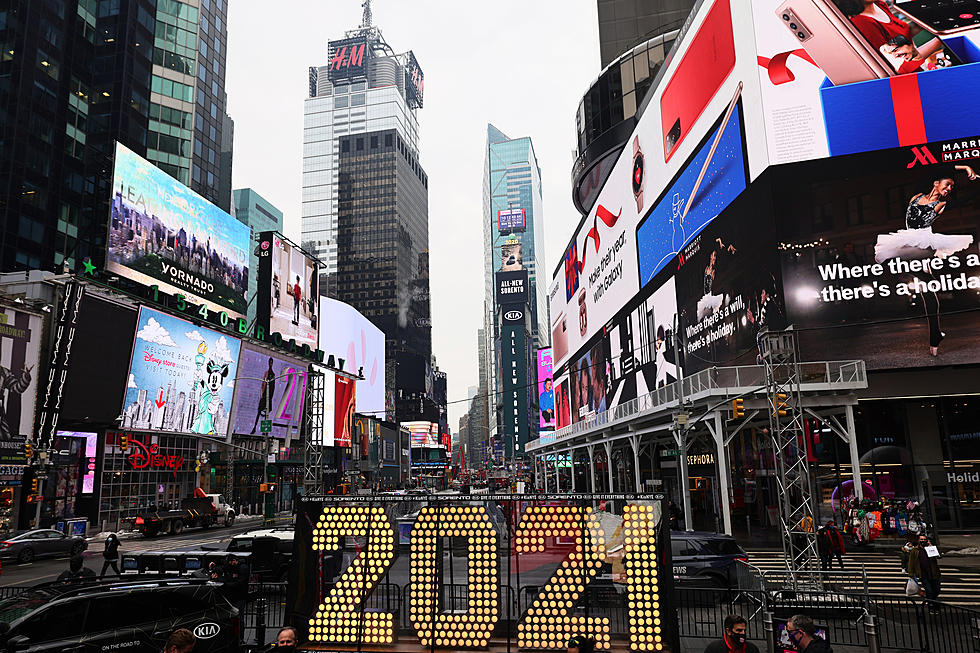 100 Biggest Moments Of 2021- Music, Film, News & Politics
Getty Images
This year has certainly been a doozy. There have been a whole lot of "WTH" moments from the Insurrection at the top of the year, the ongoing-never-ending coronavirus pandemic, historic trial convictions and acquittals, sports history, movie releases, to  and controversial pop culture events that defined the year. There have been some pretty wild moments in politics in 2021 as well. Some efforts that are literally tearing at the foundation on which America has long championed...Democracy. Will it hold or will we tear it and ourselves apart? Only the future holds the answers. Even with all of the serious matters America has to contend with, there was plenty political moments to laugh about as well.
There have also been plenty of heartwarming moments this year. Moments of hope, love and triumphant achievements. Below is a list of the top 100 Biggest Moments of the year in music, film, news and politics. As we prepare to welcome in the New Year, take one last look at the good, bad, ugly, and lovely events that defined the year 2021.
1. The insurrection at the U.S. Capital
2. Inauguration of Joe Biden and Bernie Sanders Meme
3. Kamala Harris becomes the first female and black Vice-President of the United States
4. The United States rejoins the Paris Climate Accord and the World Health Organization
5. Meghan and Harry's interview with Oprah
6. Democracy and peaceful transition of power in America is in critical danger
7. The Taliban Return to Power. The U.S. war in Afghanistan ended
8. Supply Chains Falter. "Supply chains"
9. Senate acquitted former President Donald Trump in his second impeachment trial
10. United Nations declares 2021 the International Year of Peace and Trust10.
11. Simone Biles dropping out of the Olympics
12. The number of COVID-19 vaccinations administered worldwide exceeds 100 million
13. The return of crowded events
14. A Human Mind Was Wirelessly Connected to a Computer
15. Tampa Bay Buccaneers Become the First NFL Team to Play and Win a Super Bowl in Their Home Stadium
16. Drake and Kanye Beef
17. The election of Jon Ossoff and Raphael G. Warnock in Georgia.
18. The U.S. Ends 20-year war in Afganastan
20. Analysts Built Software That Revolutionized the Fight Against Child Sexual Abuse
21. T.I. and Tiny Accused of Sexual Assault
22. The Ellen DeGeneres ends The Ellen Show
21. Higher pay and more options for workers.
23. New York Gov. Andrew Cuomo resigns after report details sexual harassment claims.
24. R. Kelly Is Found Guilty of All Counts and Faces Life in Prison
25. Scientists Revealed That Cheese Isn't Bad for You
26. The Squid Game cultural takeover
27. US dream team wins women's 4-x-400 meter relay gold (Aug. 7)
28. Suni Lee steps up to win gold in all-around (July 29)
29. Simone Biles overcomes obstacles to compete on beam (Aug. 3)
30. Emma Raducanu wins battle of the teens at US Open (Sept. 11)
31. Hundreds prosecuted after attempted insurrection at U.S. Capitol
32. Unprecedented winter storm hits the southern U.S., leaving millions in Texas without power Texas for days
33. NASA Made Oxygen on Mars
34. Tiger Woods suffers multiple leg injuries after California car crash
35. Popular flea collar linked to almost 1,700 pet deaths. The EPA has issued no warning
36. Gunman kills 10 at Colorado supermarket in second US mass shooting in a week
37. SoCal couple adopts 7 siblings after their parents die in a car crash
38. Millions of Americans receive a third round of stimulus checks amid a pandemic
39. Brady goes it alone, leads Bucs to Super Bowl win (Feb. 7)
40. Kodak Black Gropes His Mother While Dancing at Birthday Party
41. Bryce Young rallies Alabama to beat Auburn in four OTs (Nov. 27)
42. Employees at federal civil rights watchdog describe their own workplace discrimination, retaliation in Texas
43. Donald Trump Was Banned From Twitter
44. CDC lifts indoor mask guidelines for fully vaccinated people
45. Giannis goes for 50 as Bucks win the NBA title (July 20)
46. Gunman kills 8 co-workers at Indianapolis FedEx facility
47. The World's First 3D-Printed School Opened Its 3D-Printed Doors
48. Gonzaga beats UCLA at the buzzer in the Final Four (April 3)
49. The Surfside condo collapse
50. The Alec Baldwin shooting
51. Colonial Pipeline resumes operations after hackers' crippling ransomware cyberattack
52. Southwest cancels hundreds of flights as the industry copes with technology, staffing issues
53. Dutch 'Bee Hotels' Helped Bee Populations Remain Stable
54. Hurricane Ida hits Louisiana, leaves victims, damage across 8 states
55. Gabby Petito tragedy
56. Prominent cheerleading gym disregards sex abuse allegations
57. Michigan high school shooting leaves 4 students killed, 7 injured; teen suspect, parents charged
58. Naomi Osaka withdraws from French Open
59. Black Widow
60. An African woman leads the World Trade Organization.
61. Electric Vehicles Outsold Diesel for the First Time in Europe
62. Bubba Wallace makes NASCAR history
63. Teacher has students say positive affirmations in a mirror in viral video
64. More than 50 pro-democracy activists rounded up and arrested in Hong Kong
65. A purely digital artwork sells at auction for millions
66. United Airlines colleagues stitch teddy bears out of man's uniforms for his 2 sons after his death
67. Welshman Gerwyn Price wins his first PDC World Darts Championship
68. America records more than 3,000 deaths a day for the first time reaching 3,249, passing 375,000 deaths in total a day later
69. Martial law declared in Mandalay, Myanmar, amid continuing protests against the country's military coup
70. Sarah Thomas becomes the first woman to referee a Super Bowl in Tampa Bay, Florida
71. Renewable Energy Had a Record Year
72. Venom: Let There Be Carnage
73. 6.2-magnitude earthquake on Indonesia's island of Sulawesi kills at least 42 with hundreds injured
74. Caseworker becomes mother to 19-year-old who spent years in foster care
75. Lightning win back-to-back Stanley Cups (July 7)
76. Shang-Chi and the Legend of the Ten Rings
77. First successful face and double hand transplant announced performed on 22-year-old Joe DiMeo in New York
78. A Thought-to-Be-Extinct Orchid Was Found on a London Roof
79. NASA's Perseverance rover successfully lands at Jezero Crater, Mars, on a mission to find microfossils
80. NBA All-Star Game, State Farm Arena, Atlanta, GA: Team LeBron beats Team Durant, 170-150; MVP: Giannis Antetokounmpo
81. Braves win the World Series (Nov. 2)
82. Republican-led State Legislatures Pass Dozens of Restrictive Voting Laws
83. Spider-Man: No Way Home
84. Trick Daddy Reveals His Bedroom Activities
85. Uber Drivers Were Granted Workers Rights in the UK
86. 3 men convicted of killing Ahmaud Arbery
87. Kentucky devastated in a winter tornado outbreak that leaves victims in 5 states
88. CNN fires Chris Cuomo
89. Brittany spears finally free
90. Kim and Ye are officially NOT a couple anymore
91. United Flew the First Passenger Aircraft With 100-Percent Sustainable Fuel
92. The Alec Baldwin movie set shooting
93. Astroworld tragedy
94. Former Minneapolis police officer Derek Chauvin was found guilty of George Floyd's murder.
95. China Eliminated Malaria
96. The Oscars Had Their Most Diverse Year Ever
97. Kyle Rittenhouse acquittal on all charges related to the fatal shooting of two men at Black Lives protest.
98. Ye and Drake squashed their beef to bring attention to the judicial plight of the           incarcerated one-night benefit concert, "Free Larry Hoover."
98. Russian military buildup near the Ukrainian border.
99. Football Hall of Fame Coach, John Madden dies.
100. COVID-19 pandemic rages on with current stats at 53+ million cases, more than     822 thousand American deaths...and counting.
LOOK: 40 Discontinued & Special Edition Kellogg's Cereals