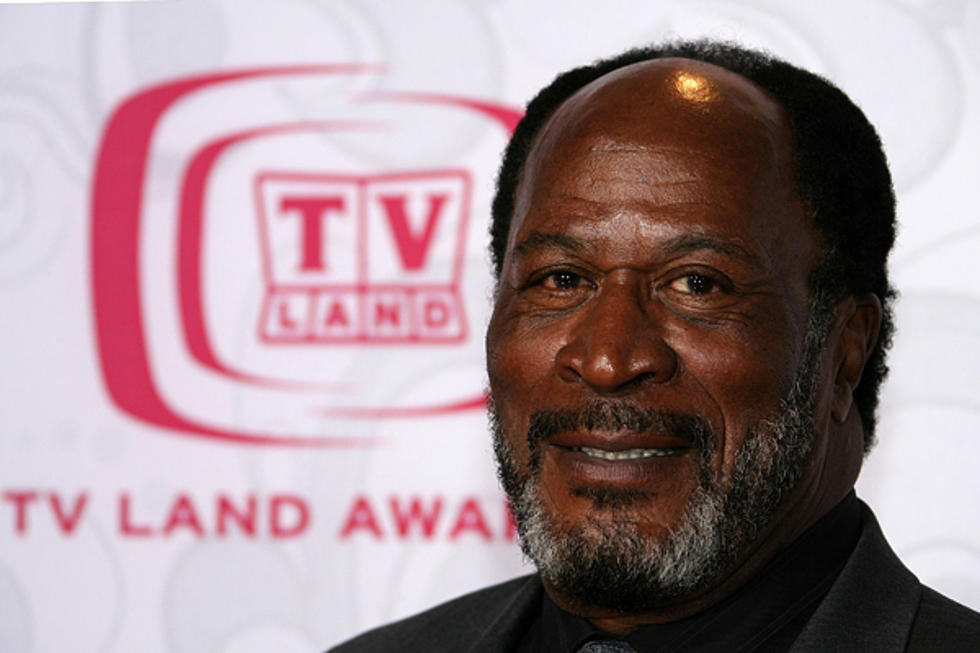 Where Are They Now? John Amos
Getty Images/Frazer Harrison
What's Mr. Evans Up To These Days?
Born: December 27, 1939, Newark, New Jersey
Claim To Fame: He is best known for his role as James Evans on the hit CBS sitcom Good Times.
Family Life: He has two children with his ex-wife Noel J. Mickelson: a daughter Shannon, and son KC. He is currently married to Elisabete De Sousa-Amos. He is grandfather to Quiera and Jhazz.
Info: Amos was an athlete before becoming an actor. He played football in college at Colorado State University, and played professionally for the Norfolk Neptunes in the late 1960s. He was a social worker for a time in New York City and worked as a copywriter at an L.A. ad agency.
His first time performing in front of an audience was doing stand-up comedy in Greenwich Village. He headed to Los Angeles for a job staff as a staff writer on Leslie Uggams' variety series (CBS, 1969), and this led to a stage role in a 1971 production of the comedy "Norman, Is That You?"
Amos' first big television role was on The Mary Tyler Moore show playing weatherman Gordy Howard from 1970 until 1973. He also appeared in a few episodes of the sitcom Maude as the sporadically-employed husband of Florida Evans before continuing the role on Good Times from 1974 to 1976. However, he quit the show after the third season because he often clashed with the producers and script writers over what he perceived as stereotypical characterizations.
Amos went on to appear on several more television shows over the years, including The West Wing (as Admiral Percy Fitzwallace), Men in Trees (as Buzz Washington), The District (as the Mayor), The A-Team, The Cosby Show, The Fresh Prince of Bel-Air, In the House, Martin, Touched by an Angel, Psych, My Name Is Earl, and Lie To Me.
In 1977, Amos rebounded from his Good Times departure with his Emmy-nominated role of the adult Kunte Kinte in the ground-breaking epic mini-series "Roots." He turned to the stage in 1985 when he appeared in the play Split Second, for which he won the NAACP Award as Best Actor.
He also appeared in a Berkshire Theater festival production of The Boys Next Door, in a tour of the play The Emperor Jones, and in a Detroit production of Athol Fugard's Master Harold...and The Boys. He played Sir Toby Belch in Twelfth Night at Joseph Papp's New York Shakespeare and in August Wilson's Pulitzer Prize-winning play Fences at the Capital Repertory Company in Albany, New York.
Trivia: Is a veteran of the 50th Armored Division of the New Jersey National Guard and Honorary Master Chief of the U.S. Coast Guard.
Received a degree in sociology from Colorado State University.
Founded the Halley's Comet Foundation (named after his boat ? and the 1990 one-man play he wrote and appeared in) to expose inner-city children to maritime activities.
Was a Golden Gloves boxing champion.
On Good Times, he was only eight years older than the actor Jimmie Walker who played his oldest son, and nearly 19 years younger than his screen wife, Esther Rolle.
Has the distinction of winning more TV Land Awards than anyone, taking home trophies for his roles on The Mary Tyler Moore Show, Good Times and the TV miniseries Roots.
Has appeared in many films, including Coming to America, The Beastmaster, Let's Do It Again and Die Hard 2.
Recently became an honorary member of Rolling Thunder National where he works diligently on behalf of military veterans nationwide.
Where Is He Now: He continues to perform his critically acclaimed one-man show Halley's Comet. He launched the show at the American Stage Company in 1990, and it has toured in over 480 cities throughout the United States and abroad.
In 2007, he signed a five-record recording deal with Gene Cash, CEO of Music Row Records Nashville. He also had a radio show on Urban Network Radio. In 2010, he appeared as recurring character Ed on Two and a Half Men.
Michael Mesnick and Assoc.
11300 Olympic Blvd., Suite 610