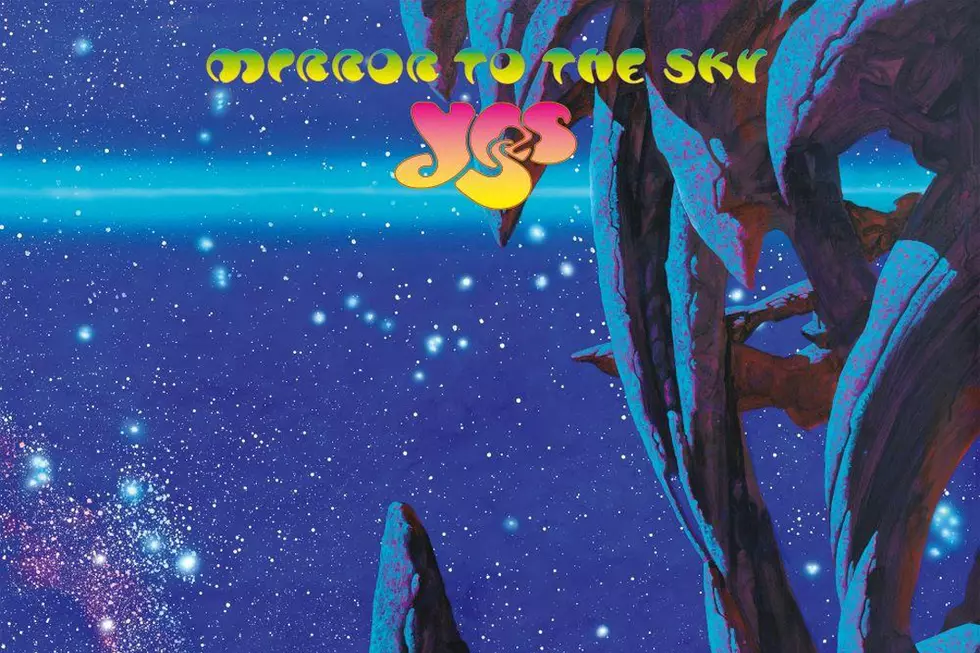 Yes Announces New Album, 'Mirror to the Sky'
InsideOutMusic / Sony Music
Yes will release their 23rd album, Mirror to the Sky, on May 19.
You can see a track listing and the Roger Dean-designed Mirror to the Sky cover art below.
"This is a very important album for the band," guitarist Steve Howe declared in a press release. "We kept the continuity in the approach we established on [2021's] The Quest, but we haven't repeated ourselves. That was the main thing. As Yes did in the '70s from one album to another, we're growing and moving forward. In later years, Yes often got going but then didn't do the next thing. This album is demonstrative of us growing and building again."
Riding a creative high, Yes began work on Mirror in the Sky almost immediately after recording The Quest. "We were still very much in that creative zone," Howe explained. "There was a lot of material floating around because the band hadn't done anything in the studio for so long," added bassist Billy Sherwood. "Ideas were just copious."
Mirror in the Sky will be available in multiple formats and feature six songs, plus three bonus tracks. There's also a deluxe box set that includes a Blu-ray audio set with Dolby Atmos 5.1 surround sound.
You can hear the album's first song, "Cut From the Stars," below.
Not long after The Quest was released, Yes drummer Alan White died in May 2022. Up until his death, he was the longest-serving member of the band. "He gave so many of his best years to the band and was a true believer and determined professional til the very end," Howe said in a statement. "Being a kind and loving human being just came naturally to him, with his mellow, non-confrontational personality and abundant generosity, which made him so popular with his friends and everyone he met."
Yes performed a tribute concert called Alan White — Celebrating His Life and Music in Seattle last fall before embarking on a 50th-anniversary tour of Close to the Edge.
In February, the band named Jay Schellen, who had toured with Yes, as a permanent member. "I grew up playing along to Yes records, and I am proud to have worked so closely with my musical hero and great friend Alan White these past few years," Schellen said in a statement at the time. "I will strive to honor his memory as we drive towards the future with the band." (The current lineup of Yes includes Howe, Schellen, Geoff Downes, Billy Sherwood and Jon Davison.)
Earlier this year, artist Roger Dean shared a video on his Facebook page of what he said was a "new Yes album cover." The longtime band cover artist explained the origins of the image: "A very old friend, Henk Rogers, told me a story about when he went camping once. Late at night, he went paddling into the middle of the lake, and as the ripples settled, the lake became a perfect mirror to a very brilliant night sky.
"He said it felt like being in space. I thought that getting that in a painting would be a good thing! I started with a horizon low down with a lot of sky but then I realized, no, I'll show with ocean in the main area with a sky just a sliver, enough to show it is mirrored. Then I decided to put in a rock formation - a viewing point for the sky."
Yes is scheduled to tour Europe and the U.K. beginning in May.
Yes 'Mirror to the Sky' Track Listing
1. "Cut From the Stars"
2. "All Connected"
3. "Luminosity"
4. "Living Out Their Dream"
5. "Mirror to the Sky"
6. "Circles of Time"
Bonus Tracks
1. "Unknown Place"
2. "One Second Is Enough"
3. "Magic Potion"
Top 50 Progressive Rock Albums
From 'The Lamb' to 'Octopus' to 'The Snow Goose' — the best LPs that dream beyond 4/4.