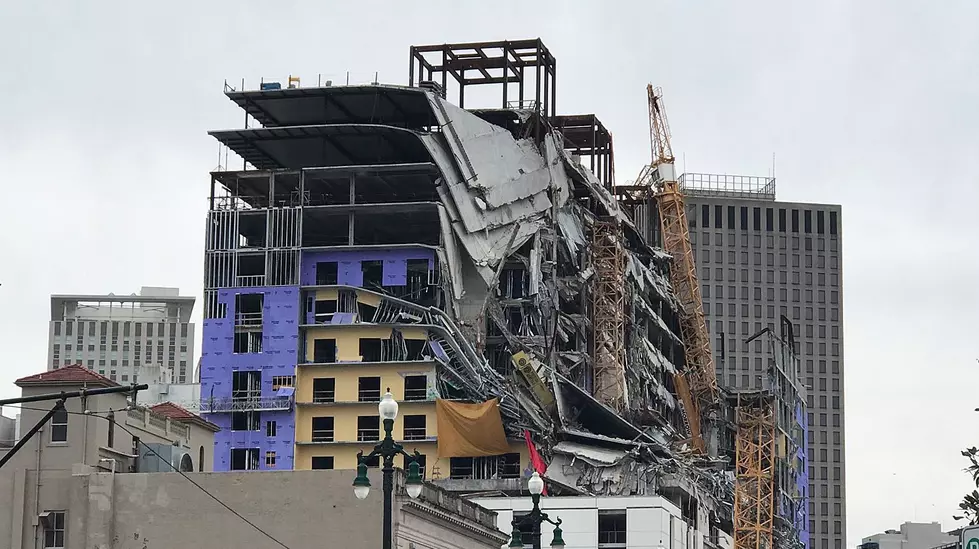 Remains Finally Removed From New Orleans Hard Rock Hotel Collapse
Danny Monteverde, Twitter
The Hard Rock Hotel in New Orleans was poised to be a major attraction and economic development generator for our state's largest city. New Orleans residents total nearly 344,000 in population. Pre-coronavirus, the city estimated they had approximately eighteen million visitors and took in nearly $9 billion in visitor spending revenue.
The new Hard Rock Hotel was expected to help impact that number greatly, until the building collapsed on October 12 of last year.
Three people lost their lives during the collapse and eighteen were injured. Two of the deceased workers have remained trapped in the building since last October. Delays to retrieve the bodies have been due to the building's instability, inclement weather, insurance, and finding a contractor to carry out the task.
The New Orleans mayor and new fire chief along with numerous family members were in attendance when the remains of Quinnyon Wimberly, 36, were removed after being in the collapsed structure for nearly ten months. The remains of one final worker still remain trapped on the eighth floor. There is no word on when the city will try to recover the body of Jose Areola.
Once the last body is removed, the city plans to immediately demolish the structure due to the current hurricane season.
Enter your number to get our free mobile app
MORE: See absolutely chilling photos of empty public spaces worldwide