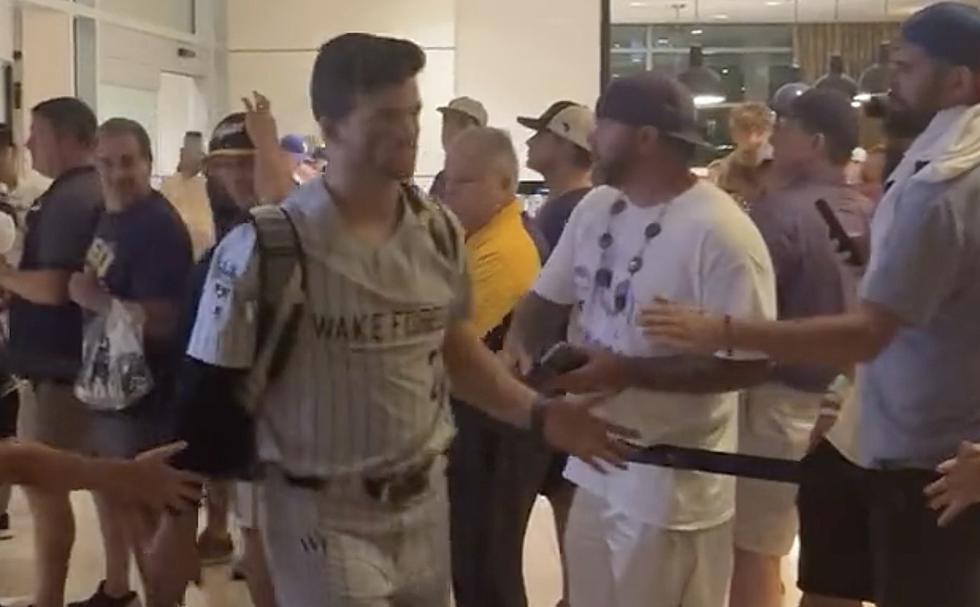 LSU Fans Applaud Wake Forest Players at Hotel Following Game in Omaha
Twitter via Cody Worsham
LSU fans stood up and applauded Wake Forest players following their game on Thursday night.
In what may have been the best college baseball game ever, that went into extra innings Thursday night, LSU defeated Wake Forest 2-0.
The loss ended the season for Wake Forest, but LSU fans would let the young men of Wake Forest just go into the dark.
Fans of the LSU Tigers showed up at the hotel where Wake Forest was staying and they lined up to applaud them as they returned after the heartbreaking loss.
Check out this amazing moment, and let it remind you that even though you are cheering from the opposing team, being a good sport isn't very difficult.
Sure, the home run by Tommy White to advance LSU in the College Baseball World Series was great, but this is as equally as great.
If you missed the moment LSU defeated Wake Forest to inch closer to a National Championship, check it out here.
Now, let's go into the booth where LSU play-by-play announcers called the game. The minute the ball goes over the fence, the color commentator tosses his headset and runs out of the room!!
LSU now faces Florida this weekend in the College Baseball World Series final round. the game(s) can be seen on ESPN.
Did You Know These Celebrities are LSU Alums?