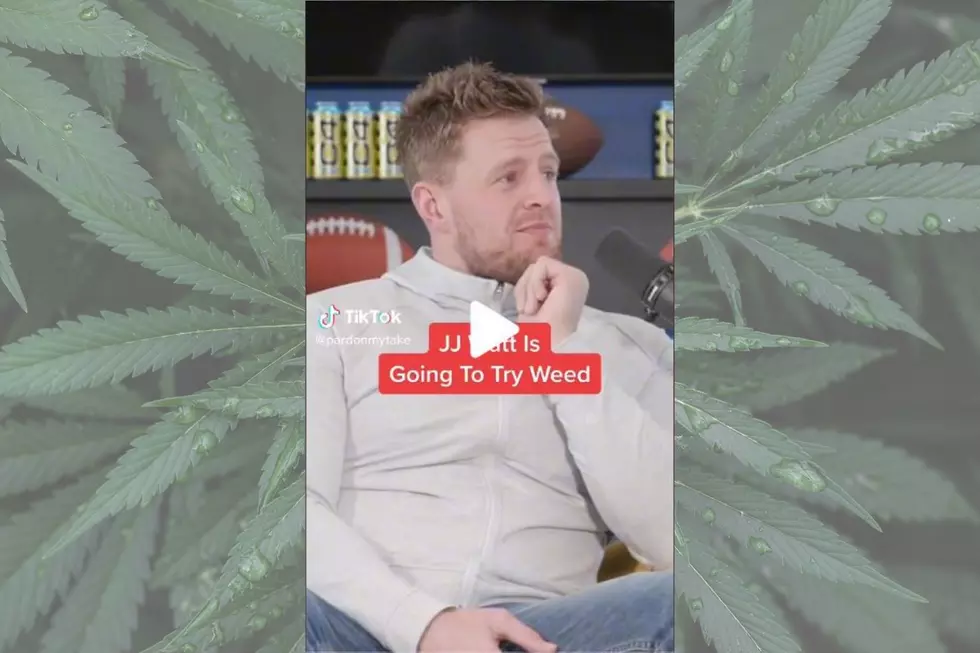 Former NFL Superstar JJ Watt Says He's Excited to Smoke For First Time
TikTok via @Pardonmytake, Canva
He was one of the most incredible defensive ends in the NFL during his career, JJ Watt was a nightmare for opposing teams. He was drafted in 2011 with the 11th pick overall in the NFL draft by the Houston Texans. After being in Houston, Texas from 2011 to 2020 he went to Arizona to play for the Cardinals but most recently he retired from football to be a dad for his son Koa. Although on a recent video JJ Watt said that now he is retired he is excited to try smoking marijuana for the first time ever. 
Obviously, marijuana is still not legal here in the state of Texas. But in the state of Arizona is it legal for anyone over the age of 21 to have up to one ounce of marijuana at a time and grow six plants. Now, I would be shocked to see JJ start growing his own plants and becoming an everyday marijuana smoker but for years people have wanted to smoke with him. 
He Talks About Former Teammates Wanting to Smoke With Him
There are lots of NFL players that smoke marijuana as a pain reliever and JJ admits that many of his former teammates have wanted to smoke with him in the past and he has always stayed away from it. But he admits that now that he is retired and no longer has to do drug tests with the league, he is excited to try the plant for himself for the first time in his life. 
It's Going to Be a Party When JJ Watt Smokes Marijuana
JJ says in the video that he will have to invite lots of people to join him on his smoking journey for the first time. But many people have said they would be willing to jump on a flight just to make sure they were there for the experience.  
Let's just hope that JJ stocks up on Hawaiian Punch and Funyuns before he gets started. If you want to see JJ's former house in Houston, click here. Now here is the video where he talks about being excited to smoke weed for the first time.  
LOOK: The story behind every NFL team name
Stacker
delved into the story behind every NFL football team name. Overall team records, also included, are reflective of NFL regular-season games. There are some football teams with well-known nicknames—the Jets, for instance, are often referred to as Gang Green—but we also divulge how some teams' official names are sparingly used (the Jets' neighbors, the Giants, are actually known as the New York Football Giants). Sometimes a team name can tell you a lot about local history: The Vikings of Minnesota draw upon the area's strong ties to Scandinavia, and the Tampa Bay Buccaneers are dripping in local legend related to Florida's pirate past.
Let's kick off the countdown with the folks who earned their nickname by buying boxes of used team jerseys.
NFL Franchises With Multiple Super Bowl Championships
15 NFL franchises have won multiple Super Bowls.