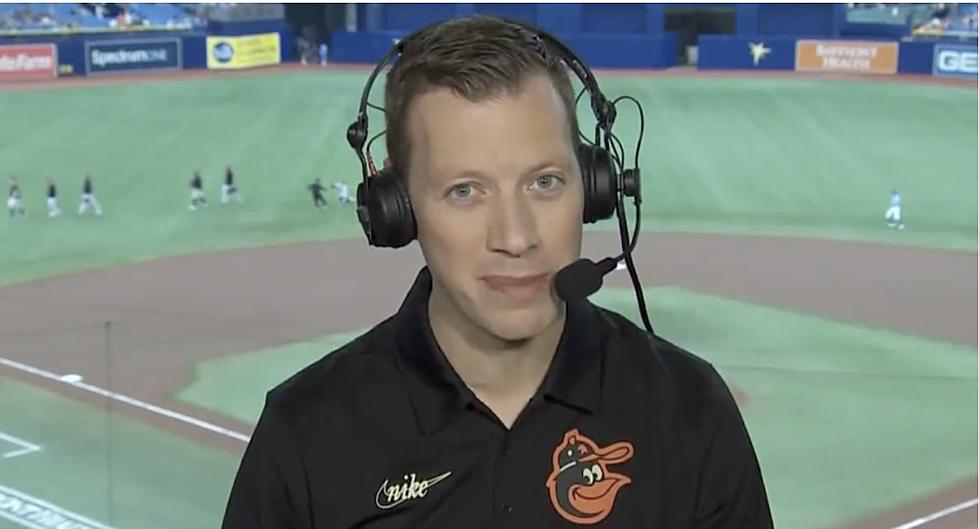 Suspension of Baltimore Orioles Broadcaster Goes Viral
Courtesy of MASN
The Baltimore Orioles are enjoying their best season since they played in the American League Wild Card Game in 2016.  They have the best record in the American League and currently sit atop the division by three games over the Tampa Bay Rays.
One would think all is well in Charm City.  One would be wrong.
Just before 3P Central Time Monday afternoon, Awful Announcing confirmed Baltimore Orioles television broadcaster Kevin Brown had been suspended following the pre-game on July 23.
Plenty of people commented on the open and couldn't figure out what exactly the issue was.
Apparently, one of the Orioles owners John Angelos, didn't appreciate Brown pointing out how much the Orioles had struggled in Tampa the last few seasons.  Thing is, Brown was making the point of the team's improvement this season compared to past seasons.
It should also be noted, this is a team effort, so to speak.  The graphic shown is made well in advance, which in turn leads the broadcaster, in this case Brown, on what he is going to say.  As Michael Kay points out, the stats that Brown and the television crew used, were in the Orioles game notes that is distributed prior to every game.
From there the clip and news of Brown's suspension continued to go viral with other talk show hosts and baseball broadcasters showing their support for Brown while crushing the Orioles.
From their end, the Orioles wouldn't comment on the Brown suspension but did say they expect him back soon.
92 Year Old Ohio Woman Visits Every MLB Ball Park In One Season, Ending In Detroit
PICTURES: See Inside MLB All-Star Mark Melancon's Stunning $10.95 Million Waterfront Estate
MLB All-Star Mark Melancon has listed his spectacular waterfront mansion in Florida for sale, and pictures show a top-of-the-line home that's like a private slice of paradise.
LOOK: MLB history from the year you were born
Stacker
compiled key moments from Major League Baseball's history over the past 100 years. Using a variety of sources from Major League Baseball (MLB) record books, the Baseball Hall of Fame, and audio and video from events, we've listed the iconic moments that shaped a sport and a nation. Read through to find out what happened in MLB history the year you were born.