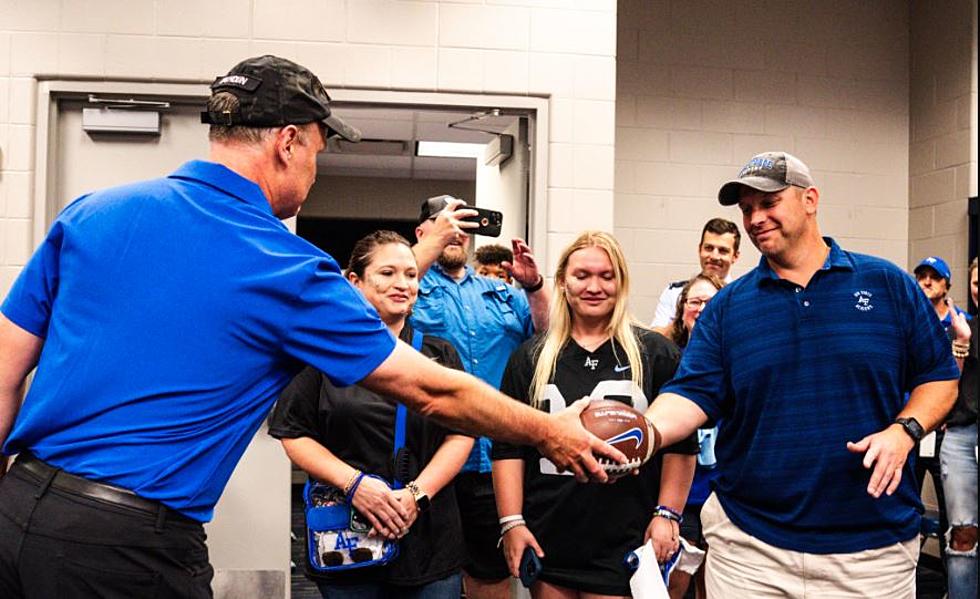 Air Force Honors Family Of Former Barbe Buc Hunter Brown
Air Force TWITTER
in January 2023, Hunter Brown tragically passed away after collapsing leaving his dorm on his way to class, officials said. The Air Force Football team and Coach Staff did something pretty incredible after their win against Sam Houston.
Brown was a reserve offensive lineman for the Falcons' football team. He appeared in two games during the 2022 season, seeing action against Northern Iowa and Nevada.
Brown was assigned to Cadet Squadron 16 and was pursuing a major in management and a minor in French. Brown was part of back-to-back winning seasons in 2021 and 2022 with the Falcon football team. Brown graduated from the U.S. Air Force Academy Preparatory School in May 2021.
Brown is from Lake Charles and graduated from Barbe High School.
During a February athletic banquet, Air Force senior receiver Ben Jefferson and the family of Hunter Brown were honored at the Air Force football banquet on Friday, Feb. 24, at Boot Barn Hall in Colorado Springs. Jefferson won the Bullard Award, while the Brown Family was honored with the Carson Bird Award.
Prior to Week One, the Air Force announced that they would wear a special sticker on the backs of each helmet that said "HB79" in honor of Hunter.
After the Air Force win on Saturday against the Sam Houston State Bearkats, the coaching staff presented Brown's family with a commemorative game ball. The Brown Family was presented with the ball in the locker room after the game.
Motivational Speakers Who Inspire Us All