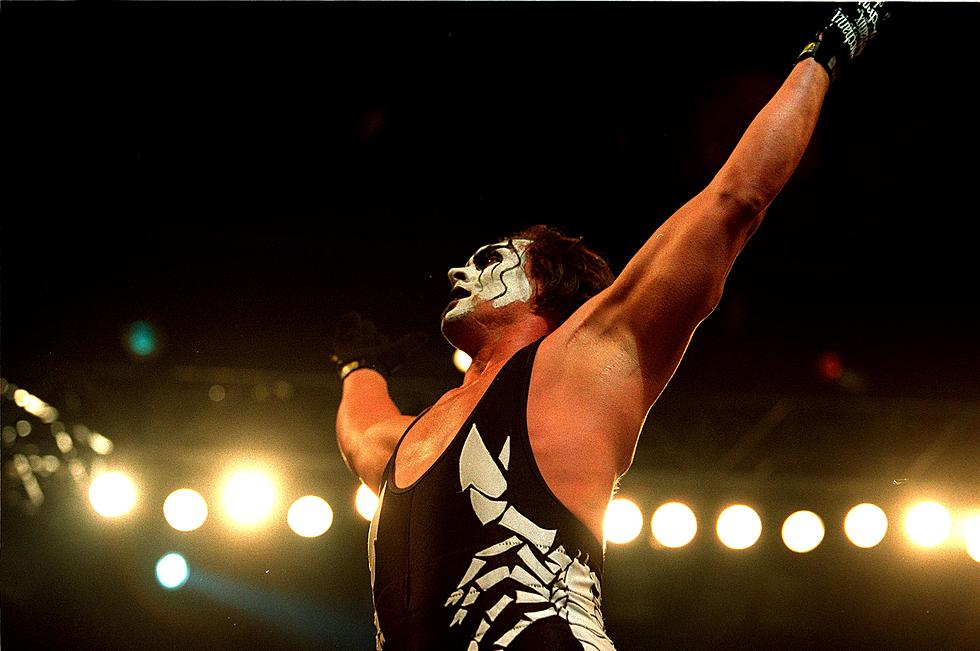 Is Wrestling Icon Sting Heading to AEW?
Getty Images
At the age of 61, The Icon might be trying to add one more milestone to his prolific career.
Let me start by saying I grew up a huge wrestling fan and an even bigger Sting fan. When I was very young, my neighbor introduced me to wrestling and his favorite wrestler, you guessed it, Sting. Growing up, I idolized Sting far more than anyone else. I believe I dressed up as him for like 10 out of 14 Halloweens.
Luckily, I've been able to meet him twice in my life, and they say that you never want to meet your heroes, but Sting aka Steve Borden is the exception. He couldn't possibly be a nicer guy, and I've tried to follow his career the best I could, even after I fell out of watching wrestling regularly.
Sting briefly got me back into wrestling in 2014 when, for the first time in his long and eventful career, he arrived in WWE. Sting was the face of then-WWF's rival wrestling promotion, WCW. He was The Franchise of that brand, and even though WCW folded in 2001, Sting never joined his WCW brethren in the jump to WWE... That is, until 2014.
His run with the WWE fell short of fans and probably his own expectations, losing both of the marquee matches he wrested for the biggest promotion in the world. His first lost came in his Wrestlemania debut, a controversial loss to Triple H to say the least. A few years later, when challenging Seth Rollins for the Heavyweight championship in his second match, he suffered a major neck injury and just like that, The Icon's legendary career came to a crashing halt...
As a lifelong Sting fan, even now I find a way to get excited like a kid anytime Sting news pops up. Recently, his name has been all over the internet with rumors of him potentially joining WWE's newest rival promotion, AEW. Sting, since his retirement, has been under a Legends contract with the WWE. Wrestling insiders are now reporting that Sting did not re-sign a WWE contract and is virtually a free man. That makes since, considering a WWE Sting action figure was promoted to appear on racks soon, but Mattel pulled Sting's figure out of the line-up due to reasons out of their control.
Also, Sting has been very active on social media lately, which has really never been the case. He has tweeted AEW talent directly and referenced the promotion several times over the last couple of weeks, which he certainly wouldn't be able to do, if he was still operating under a WWE contract.
On top of this, AEW star and executive vice president Cody Rhodes has responded to several of Sting's tweets and tweets in regards to Sting in a very peculiar, sly way. See his tweets below.
So, what does this all mean? Maybe nothing at all... Or maybe Sting wants to end his career on his own terms, while giving wrestling fans young and old one last look at The Icon.
After all, the only thing that's for sure about Sting... Is nothing's for sure.