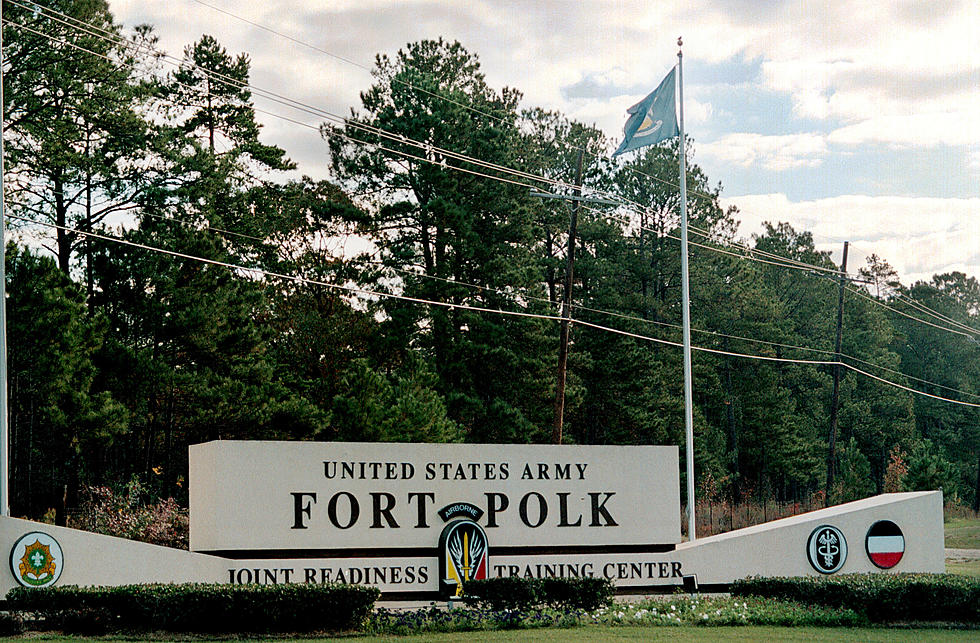 Fort Polk to Be Renamed Fort Johnson Summer of 2023
Photo by Mario Villafuerte/Getty Images
Founded in 1941 in Vernon Parish, Fort Polk was named to honor Confederate General Leonidas Polk. In the Summer of 2023, Fort Polk will be renamed.
Construction on Camp Polk began in 1941 preparing soldiers to fight in World War II.
Beginning in 1943, Fort Polk also served as a military prison for German prisoners of war.
From Wikipedia.com -
"While primarily a training facility, Camp Polk also served as a military prison for Germans captured during World War II. The first prisoners of war (POWs), who began arriving in Louisiana in July 1943, were from the Afrika Korps, Field Marshal Erwin Rommel's troops who fought in North Africa. They were housed in a large fenced-in compound in the area now encompassing Honor Field, Fort Polk's parade ground."
Sprawling an incredible 198,000 acres, Fort Polk also became an important training post for the U.S. Army during the Vietnam War throughout the 1960s and 1970s.
As recently as 2013, there were 10,877 troops stationed at Fort Polk.
In 2021 the process of renaming Fort Polk was mandated by Congress through the 2021 National Defense Authorization Act.
The 2021 National Defense Authorization Act requires any and all Army bases with ties to the Confederacy in their namesake to undergo a name change.
According to americanpress.com, up until December 2021, public suggestions were accepted for an appropriate new name for Fort Polk.
In May 2022, the name Fort Johnson was officially submitted to Congress.
Who Was Sgt. William Henry Johnson?
From americanpress.com -
"The name honors Sgt. William Henry Johnson, a North Carolina native who served in the Army during World War I and earned an African American Medal of Honor."
It will cost an estimated $1.4 million for the re-designation of Fort Polk to Fort Johnson.
As of now, no exact details are known as to the official date of the name change other than the Summer of 2023.
Read more at americanpress.com.
LOOK: Things from the year you were born that don't exist anymore
The iconic (and at times silly) toys, technologies, and electronics have been usurped since their grand entrance, either by advances in technology or breakthroughs in common sense.
See how many things on this list
trigger childhood memories—and which ones were here and gone so fast you missed them entirely.