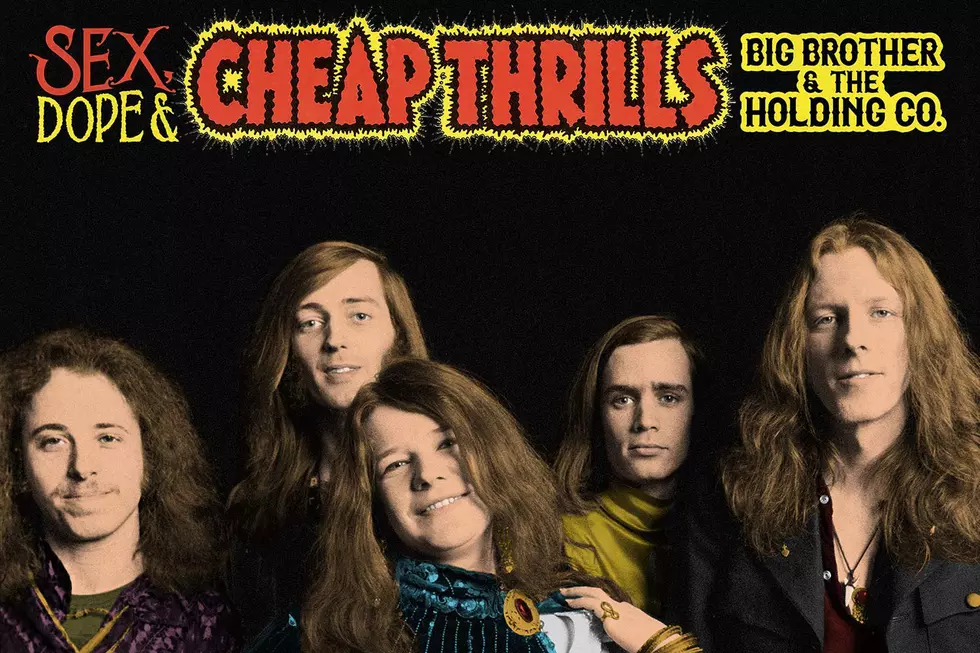 Rare Janis Joplin Tracks Featured on 'Sex, Dope & Cheap Thrills'
Legacy
A new take on Cheap Thrills, the major-label debut from Big Brother & the Holding Company that introduced the world to Janis Joplin, will be released on Nov. 30.
Sex, Dope & Cheap Thrills consists of rare and unreleased tracks recorded during the sessions for the 1968 LP.
The upcoming album, which was the name the band had originally chosen for the record before Columbia deemed it too controversial, includes 29 studio outtakes and a live performance of "Ball and Chain" from an April 12, 1968, concert at San Francisco's Winterland. Only five of the tracks have been previously officially available on various reissues and Record Store Day exclusives.
"Cheap Thrills seems to have stood the test of time," Dave Getz says in the liner notes. "It might be because it is arguably the greatest work by a great artist, Janis Joplin. It is certainly the greatest and closest representation of what Big Brother & the Holding Company was as a band and I would add to that argument that Big Brother/Janis as a band, and as a SOUND, was the embodiment of the San Francisco, psychedelic, counter-culture of the 1960s. ... On another, more metaphorical level and in the perspective created by the distance of 50 years, I see Cheap Thrills as a time capsule for the year 1968. That year might have been the moment when it all came to a boil for Big Brother, Janis and the entire 1960s, acid-infused, revved-to-the-max, counter-culture generation."
Other liner notes come courtesy of Big Brother & the Holding Company drummer David Getz and Jefferson Airplane singer Grace Slick, who recalls her first encounter with Joplin's voice.
"Then I heard that voice," she writes. "Good Lord -- spontaneous explosions of every emotion -- no holds barred. ... Janis had no trouble sliding from the apron-clad '50s into the no-bra '60s. We all took every advantage of the new freedoms, and it was reflected in the music. ... This album, because of its worldwide success, made it possible for everybody to hear the phenomenon that was previously limited to the San Francisco Bay Area. Now, a new generation gets the Cheap Thrills experience to enjoy."
Sex, Dope & Cheap Thrills,will be available as a two-CD set or in a 16-track, two-LP distillation. You can see the track listing below.
Big Brother & the Holding Company, 'Sex, Dope & Cheap Thrills' Track Listing
Disc One
1. "Combination of the Two" (Take 3)
2. "I Need a Man to Love" (Take 4)
3. "Summertime" (Take 2) *
4. "Piece of My Heart" (Take 6)
5. "Harry" (Take 10)
6. "Turtle Blues" (Take 4)
7. "Oh, Sweet Mary"
8. "Ball and Chain" (live, The Winterland Ballroom, April 12, 1968)
9. "Roadblock" (Take 1) *
10. "Catch Me Daddy" (Take 1)
11. "It's a Deal" (Take 1) *
12. "Easy Once You Know How" (Take 1) *
13. "How Many Times Blues Jam"
14. "Farewell Song" (Take 7)
Disc Two
1. "Flower in the Sun" (Take 3)
2. "Oh Sweet Mary"
3. "Summertime" (Take 1)
4. "Piece of My Heart" (Take 4)
5. "Catch Me Daddy" (Take 9)
6. "Catch Me Daddy" (Take 10)
7. "I Need a Man to Love" (Take 3)
8. "Harry" (Take 9)
9. "Farewell Song" (Take 4)
10. "Misery'n" (Takes 2 & 3)
11. "Misery'n" (Take 4)
12. "Magic of Love" (Take 1) *
13. "Turtle Blues" (Take 9)
14. "Turtle Blues" (last verse Takes 1-3)
15. "Piece of My Heart" (Take 3)
16. "Farewell Song" (Take 5)