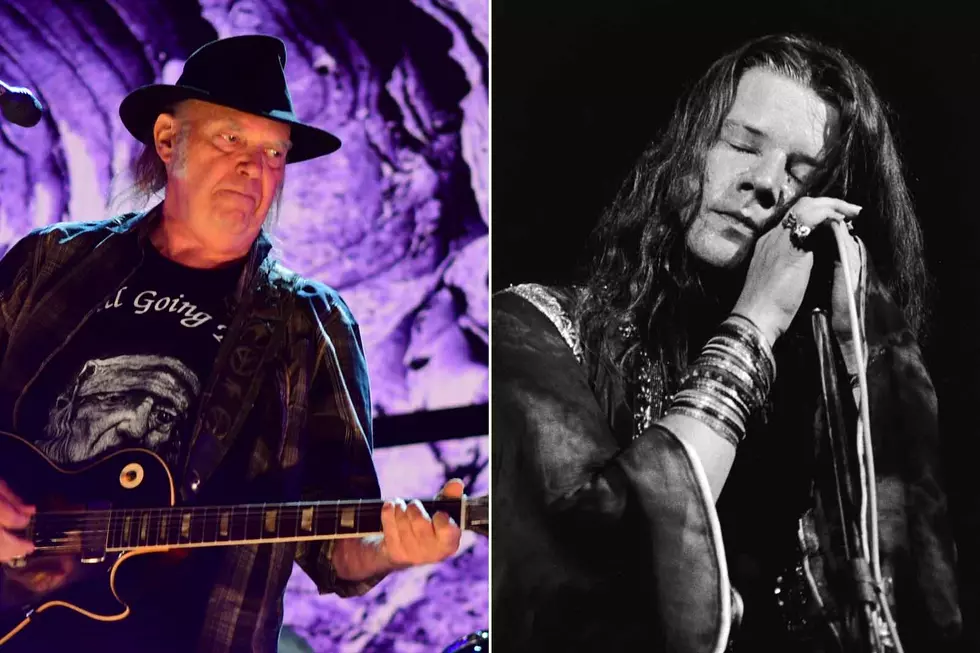 Lost Neil Young and Janis Joplin Woodstock Sets to Surface in Documentary
Matt Kincaid / Hulton Archive, Getty Images
An upcoming documentary will unearth Neil Young's and Janis Joplin's performances at Woodstock. Bill Gerber, who produced A Star Is Born, is creating a documentary that will include that footage that will be included as a feature in an upcoming reissue of the Woodstock concert film.
"The film has new interviews and is also the Young Men With Unlimited Capital story of John Roberts and Joel Rosenman, these two young guy who started Woodstock as a capital raise to build a recording studio," Gerber told Deadline. "There is also material no one has ever seen. Neil Young was not in the movie for a variety of reasons, until now. There is unseen footage of Janis Joplin and performance footage that hasn't been seen."
Young had just turned Crosby, Stills & Nash into a foursome and only made his debut with them the night before in Chicago. At Woodstock, he came onstage six songs into their acoustic set and played a couple of songs with Stephen Stills and "You Don't Have to Cry." An electric set and a pair of encores followed. But he didn't allow his performance to be used in the movie.
As he told Howard Stern in 2014, "I didn't like the fucking cameras, they didn't have to be on stage. They're cameras, 'Hello! Use your zoom, dickhead!" Young refused to speculate on whether or not he regretted the decision, adding, "Who cares? It doesn't matter, I was there, I saw it. Who gives a shit? I couldn't care less."
Gerber is looking to reveal more little-known information about Woodstock. "There are some great stories," he continued, "like how [New York governor] Nelson Rockefeller was going to send in the National Guard to shut the festival down. Roberts and Rosenman had family in finance and banking and they got on the phone with the governor and pleaded with him to call off sending in the National Guard on that first Saturday. Otherwise, the festival never would have happened."
Neil Young Albums Ranked