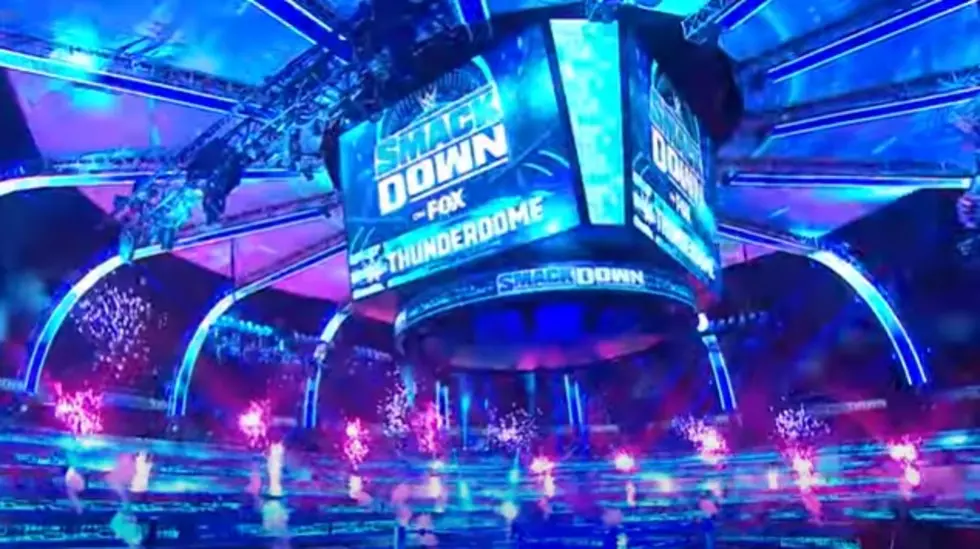 WWE Debuts Their New Thunderdome On Smackdown
WWE via Youtube.com
Pro wrestling has been the most constant sport since the start of the COVID-19 pandemic. Between WWE and AEW, live pro wrestling has rarely missed a week on national television all year. But it hasn't been easy
WWE and AEW have both had heavy testing for staff, closed shows, and even staff members testing positive for COVID. But both companies have also helped pave the way for other sports and organizations to make it through the pandemic. Their ability to keep things moving has helped other to create on-site testing policies, and recently, fan policies.
Tonight's advancement comes from WWE, and they're calling it...The Thunderdome.
WWE has taken up residency in the Amway Center in Orlando, Florida, after hosting all of their events in the Performance Center since the start of the pandemic. They've worked to change the Amway Center into a giant tech-based spectacle.
The arena is loaded with LED boards, pyro, and lighting. With plenty of space for cameras to move freely to capture all of the action. But maybe the biggest addition is fans. But not in attendance.
While other sports leagues have been able to take ideas from WWE and AEW, this time around, WWE has taken an idea from the NBA. They're filling their LED boards with fans. So WWE fans at home will now be able to appear on screen at WWE events from The Thunderdome...
Now there are rumors that the evolution of this move to the Amway Center is to allow space to start welcoming back fans, in-person. AEW has announced they will start welcoming fans into their shows in Jacksonville later this month, and WWE could be close behind. The capacity of the Amway Center is generally in the tens-of-thousands, so if WWE was able to use a small percentage for in-person fans, they'd still be able to get a good number inside, and socially distanced.
READ MORE: Louisiana Cities As Old School Pro Wrestlers