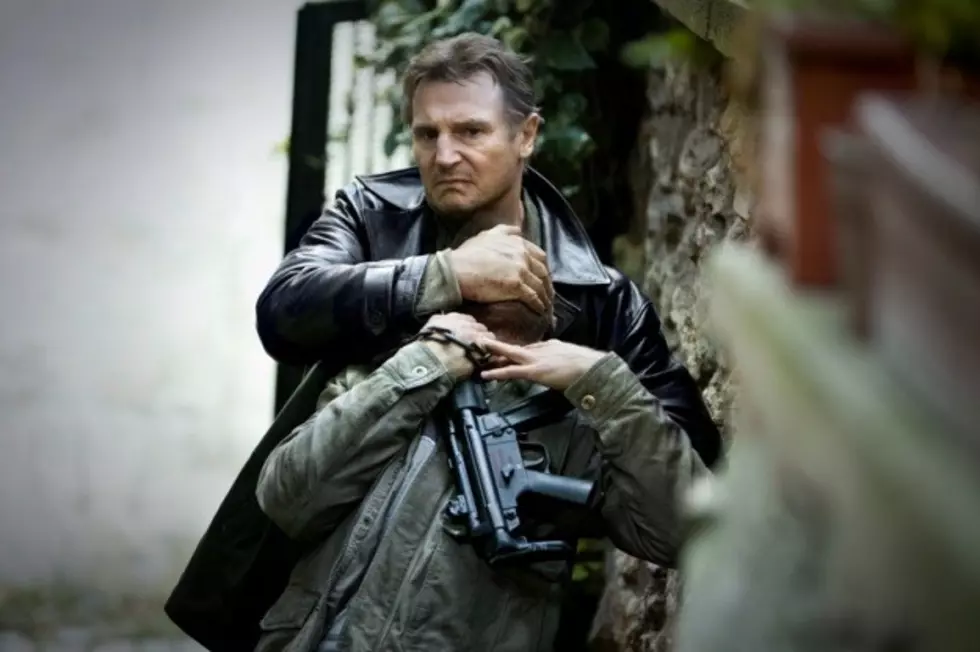 Weekend Box Office Report: The Box Office Gets 'Taken'
Fox
'Taken' was the surprise hit of 2009, a January dump that inexplicably made nearly $150 million in the United States and transformed Liam Neeson into an instant action star. Three years later, 'Taken 2' has arrived in theaters on a primo release date and with an advertising campaign that probably cost more than the entire first movie. Well, it looks like the hype was worth it. The first film may have been a sleeper, but the second adventure of Liam Neeson's kidnap-prone family has opened like a true blockbuster.
| | | | | |
| --- | --- | --- | --- | --- |
| | Film | Weekend | Per Screen | Total |
| 1 | Taken 2 | $50,000,000 | $13,657 | $50,000,000 |
| 2 | Hotel Transylvania | $26,300,000 (-38.1) | $7,846 | $76,000,000 |
| 3 | Pitch Perfect | $14,700,000 (+185.5) | $5,307 | $21,600,000 |
| 4 | Looper | $12,200,000 (-41.4) | $4,076 | $40,300,000 |
| 5 | Frankenweenie | $11,500,000 | $3,827 | $11,500,000 |
| 6 | End of Watch | $4,000,000 (-48.8) | $1,688 | $32,846,000 |
| 7 | Trouble With the Curve | $3,870,000 (-46.8) | $1,289 | $29,710,000 |
| 8 | House at the End of the Street | $3,698,000 (-48.1) | $1,360 | $27,531,000 |
| 9 | The Master | $1,840,000 (-31.4) | $2,130 | $12,315,000 |
| 10 | Finding Nemo | $1,555,000 (-61.5) | $891 | $38,969,000 |
With $50 million in the bank after its first three days, 'Taken 2' doubled the opening of its predecessor. Unless it sinks like a stone next week, $100 million is a definite possibility. More mixed word-of-mouth may keep it from the original's shockingly high final tally, but this is the kind of opening that gets 'Taken 3' green-lighted if all the parties are willing. Neeson may claim that a third entry was out of the question, but when he sees that dump truck full of 20th Century Fox cash being parked in his driveway, he may wise up. It's not every day that a middle-aged actor suddenly finds himself the face of a lucrative action franchise.
The other new release of the week didn't fare nearly as well. Despite good reviews, Tim Burton's 'Frankenweenie' puttered into fifth place with $11.5 million, making it the third, stop-motion animated movie this year to open below expectations. 'The Pirates! Band of Misfits' didn't recover from its soft opening, but 'ParaNorman' road solid buzz to an acceptable haul. 'Frankenweenie's young audience may grow more interested in its morbid subject matter as Halloween approaches. In any case, Disney's not sweating this one. This film was their gift to Tim Burton for delivering 'Alice in Wonderland,' which made over a billion dollars worldwide. They knew this thing wasn't going to be a smash.
Perhaps the reason 'Frankenweenie' opened poorly was the fact that there was already a popular horror-themed animated movie out in theaters. 'Hotel Transylvania' may have been bumped to the number two spot by 'Taken 2,' but it fared extremely well in its second week, taking in another $26 million for a currently gross of $76 million. Audiences should stick around until Halloween, so $150 million is the number we're looking at here, unless it really finds a groove. If it plays well into November, $200 million is not out of the question.
However, the truly great second week goes to the film in the number three spot. 'Pitch Perfect' expanded theaters this weekend and grossed $14.7 million, a 185% increase from its first weekend. That's $21 million in the bank. If it has legs, this could be the quiet hit of 2012.
In the fourth spot, 'Looper' also held strong, making another $12 million for a $40 million total. That's not great, but it's also not bad, especially for a reasonably inexpensive, independently produced science fiction film that doesn't talk down to audiences. $70 million will be a victory here.
The box office was pretty front loaded with interesting things this week, meaning that the final five slots are are a little dull. Let's power through it, shall we?
'End of Watch' fell into slot number six with $4 million, bringing its total to $32 million. Not bad: it's profitable, at the very least. Right under it, 'Trouble With the Curve' made $3.8 million for a total of $29 million. If this was a film that anyone expected anything from, we could call this a disappointment. In the eighth spot, 'House at the End of the Street' made $3.6 million for a $27 million total. It doesn't look great, but for a movie that sat on a shelf for awhile before getting unceremoniously dumped in September, it's not awful. In slot nine, 'The Master' made $1.8 million. With $12 million made so far, it's doing the exact kind of business you'd expect a challenging, polarizing art project to do. Its legacy lies in hushed critical discussion over coffee, not in big box office. Finally, 'Finding Nemo 3D' closed out the top ten with $1.5 million. It'll hang around another week or so and cross over $40 million before vanishing. Then it will make a bunch of money when it hits Blu-Ray in December.
Next week, 'Sinister,' 'Argo' and 'Here Comes the Boom' will vie for your dollars. With it being the season of the witch, expect the well-liked 'Sinister' to win the weekend.