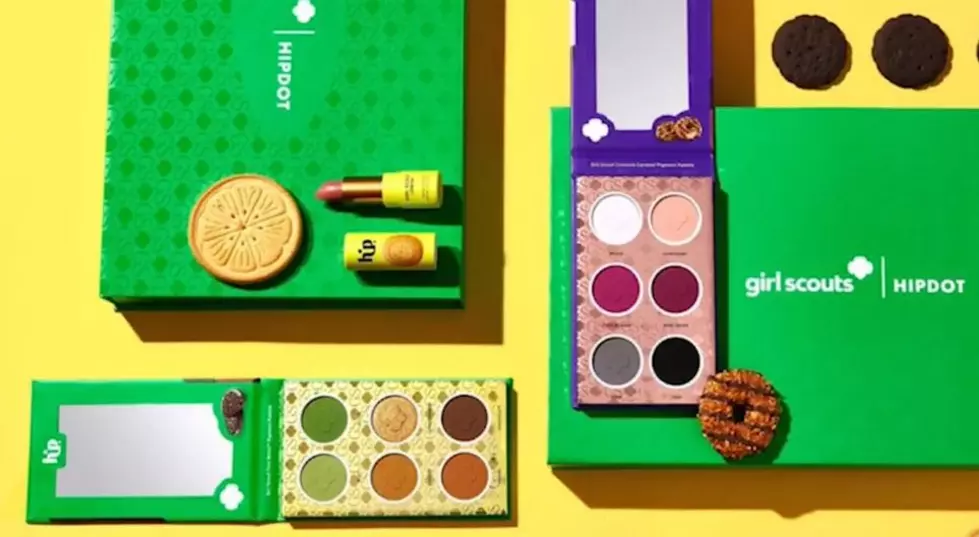 The Girl Scouts Launch Cookie Scented Makeup Collection
Staff
If you love Girl Scouts cookies you'll be happy to know, that the iconic girls' mentor group has established a new way to distribute the scrumptious treats. Makeup! Ladies here's another deliciously scented brand of lipsticks, and eyeshadows to add to your collection. Only this time they smell just like those amazing Girl Scout cookies we all love!
Founded in the U.S. in 1912 in Savannah, Georgia the Girl Scouts are now in their 110th year. Believe it or not, five years later in 1917, they started selling cookies. However, this is the very first time the legendary girl's group has ever launched its own cosmetic line. They teamed up with the popular L.A.beauty brand HipDot whose famous for mixing makeup with the scent of our favorite snacks and food. Over the years the beauty giant has collaborated with Reeses, Peeps, and most recently with Cup Noodles.
Get the first-ever official Girl Scout Cookies cosmetics line at hipdot.com or in Ulta Beauty stores. Available now are two limited-edition cookie scented eyeshadow palettes, two custom eye brushes, three deliciously creamy lipstick shades, and for the Girl Scout Cookies enthusiasts everywhere an awesome collector's box.
The Girl Scouts kicked off their 2022 cookie-selling season, with three exciting announcements. The new cosmetic line is one. Girl Scouts has inked a partnership deal with DoorDash, so now folks can take care of a last-minute cookie craving and have their favorite obsession delivered to their door on cue. Finally, they have a brand new cookie flavor this year! Indulge in a cookie adventure and order a box of the brownie-and-salted caramel-inspired Adventurefuls. yum!
Gallery — Every Movie Theater Candy, Ranked: