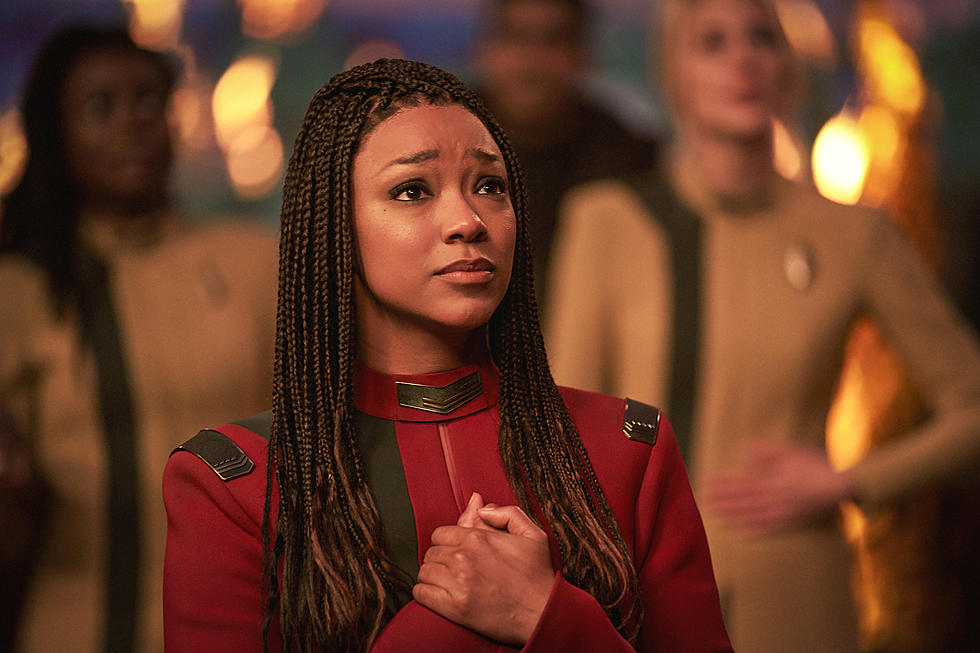 'Star Trek: Discovery' To End With Season 5
CBS
The Discovery is headed into drydock.
As revealed by producers Alex Kurtzman and Michelle Paradise, Star Trek: Discovery will end with its upcoming fifth season. In a letter to fans posted to StarTrek.com, the pair wrote:
Thank you for your love of DISCOVERY. Thank you for inviting us into your homes, and for trusting us with this show. Thank you for appreciating and supporting our incredible cast and crew. Thank you for the passion and excitement you've brought to this fandom – online, at conventions, and when we've seen you out in the world. We've loved meeting you, hearing what DISCOVERY means to you, and getting to share what it means to us, too. And rest assured, we're not going anywhere just yet! There's still work to be done to finish season five and we're excited for you to see our exciting and satisfying conclusion. We also have some very special fan events planned for the months ahead, so that we can all celebrate DISCOVERY and our incredible cast together. More details to come on that – and on our premiere date – very soon. Until then, as Burnham would say: Let's fly!

 
READ MORE: Star Trek Picard Producer On Huge Season 3 Twist
Discovery premiered in September of 2017 as a flagship piece of original programming on CBS All Access, a streaming service that no longer even exists. (Paramount rebranded their streaming hub as Paramount+ in 2021.) Although it has remained the key piece in this current Trek TV landscape, and launched the popular spinoff Star Trek: Strange New Worlds, it has not always been a smooth journey for Discovery. Its original showrunner, Bryan Fuller, left over creative differences, and there have been numerous behind-the-scenes changes along the way. When the plug is finally pulled next year, the show will have produced 65 episodes, fewer even than the original Star Trek of the 1960s.
Star Trek seems to be headed into a transitional period in general. Another of the franchise's big series, Star Trek: Picard, will end with the current season streaming now on Paramount+. And Paramount has spent years trying to develop various new Star Trek films with the movie cast headed by Chris Pine and Zachary Quinto, with no luck to date.
"We are forever grateful to have been able to share such an amazing journey with you," Kurtzman and Paradise also wrote. The final season of Star Trek: Discovery will premiere in 2024 on Paramount+.
Sign up for a trial of Paramount+ here.
An AI Chatbot Reviews Classic Movies
We asked ChatGPT about 25 of the greatest movies ever made. Here are its reviews...