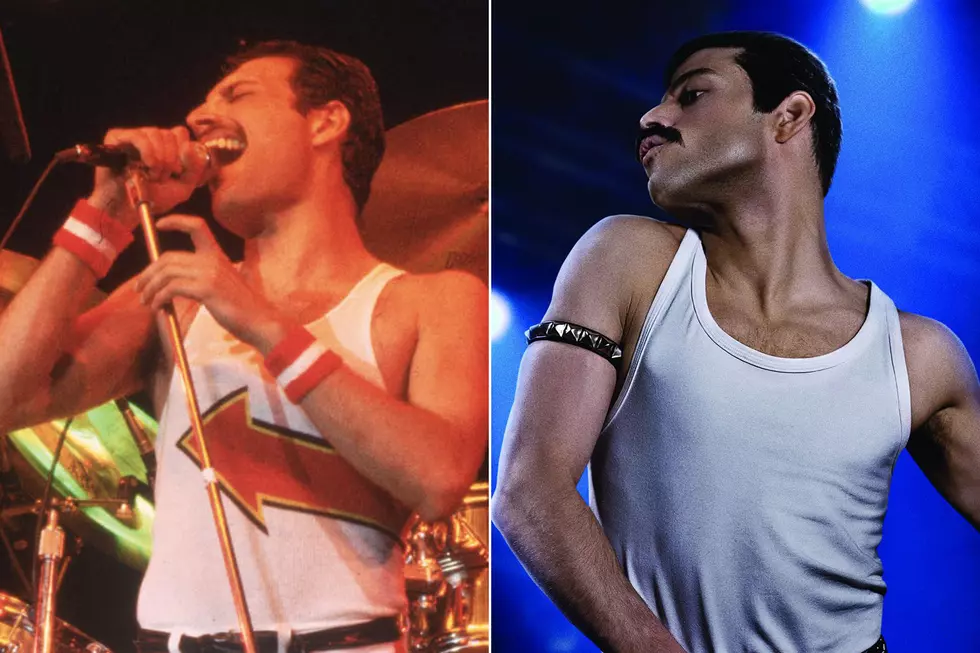 Queen's 'Bohemian Rhapsody' Movie Fact vs. Fiction: How Events and People in Movie Differ From What Really Happened
Hulton Archive, Getty Images / 20th Century Fox
Warning: This story may contain spoilers.
Queen's Bohemian Rhapsody movie presents some interesting aspects about the band and singer Freddie Mercury's life. The making of their signature song "Bohemian Rhapsody," the chemistry within the group and their electrifying Live Aid performance are all covered. But when fans watch the movie, they may quibble over certain events and details from the band's history, which are condensed or reconfigured to save time and present things in a more dramatic manner -- typical of most Hollywood biographical treatments. We've put together a list of some of the events and people depicted in Bohemian Rhapsody, and how they compare to what was previously written and documented about Queen and Mercury.
When Freddie Meets Brian and Roger
How Freddie Mercury first met future bandmates Roger Taylor and Brian May, as depicted in Bohemian Rhapsody, is quite different from previous official and unofficial narratives. In the movie version, Freddie (Rami Malek) checks out Brian (Gwilym Lee) and Roger's (Ben Hardy) previous band Smile at show in 1970 and later searches for them backstage. When he does, he learns that Smile's singer and bassist Tim Staffell has turned in his walking papers. At first, Brian and Roger don't know what to make of Freddie's somewhat shy persona but are wowed when Freddie starts to sing.
But according to the authorized biographies, Queen: As It Began and 40 Years of Queen, Mercury already knew May, Taylor and Staffell when Smile were still around — the four of them even shared an apartment together. As for his shyness, May recalled his first impression of Mercury to Mojo in 2017: "Freddie was supremely confident. He believed even then that he was a rock star. It wasn't like he was going to be a star — he was one."
Freddie's Relationship With Mary Austin, the Love of His Life
Early in the film, when Freddie (whose surname was still Bulsara and not Mercury) was looking for the members of Smile backstage, he encounters Mary Austin (Lucy Boynton) and an immediate connection is established.
But according to Mark Blake's 2011 band biography, Is This the Real Life?, Mercury met Austin in 1970 when she was working as a receptionist at a clothing store. "It took Freddie nearly six months to finally ask me out!" she recalled in Queen: As It Began. "I thought he fancied my best friend, so I used to avoid him. One night we were at one of his gigs, and after it had finished, he came looking for me. I left him at the bar with my friend to go to the loo, but I actually sneaked out. He was furious!" What is not in dispute was their close relationship, even after they broke up by the late '70s. When Mercury died in 1991, he reportedly left Austin his home and 50 percent of his estate. "Mercury and Austin's relationship would outlast almost of all the singer's relationship with men," Blake wrote in his book.
May revealed in 2017 that he was "kind of going out with [Austin]. And Freddie came up to me one day and said, 'Are you serious with Mary? Can I ask her out?' And he did, and they were lovers for a long time."
Jim Hutton, Freddie's Romantic Partner
In Bohemian Rhapsody, after Freddie throws a lavish and wild party at his home, he meets Jim Hutton (Aaron McCusker), one of the servers at the bash, and drunkenly hits on him. Freddie later apologizes for his behavior and they share a conversation before  a romantic relationship develops.
In real life, as recalled in Queen: As It Began, Mercury met Hutton, an Irish hairdresser, at a London club called Heaven sometime in the early-to-mid-'80s. Reportedly, Hutton later moved into Mercury's home. According to Is This the Real Life?, Mercury told Hutton he was HIV positive and would understand if the relationship ended right there. Hutton, however, dismissed this and stuck by Mercury, even helping to take care of the singer in his final days. "I do like to think that his last few years were as happy as they could've possibly ever been," he said of Mercury in the 2000 documentary Freddie Mercury: The Untold Story. Hutton died of lung cancer in 2010 at the age of 60.
What Really Happened Between Queen and Manager John Reid
According to Bohemian Rhapsody, Queen appoint John Reid (Aiden Gillen) as their manager around the time they started work on A Night at the Opera. His other client at the time was Elton John. Later, during a car ride sometime in the early '80s, Freddie heatedly fires Reid for hinting that he should leave Queen to pursue a solo career.
In real life, Reid split from Queen in 1977, and the break was amicable rather than acrimonious; Jim Beach, the band's lawyer at the time, took over as Queen's manager and has remained in that role to this day. "We had a good working relationship with John," Taylor said of Reid in the 2011 Queen documentary Days of Our Lives. "He was very fiery and very feisty, but so were we. So we weren't scared of him."
Was There a Real Ray Foster, the EMI Records Exec Who Refused to Release "Bohemian Rhapsody"?
In a somewhat uncharacteristic and straightforward role, Mike Myers appears as Ray Foster, an executive at EMI Records, Queen's British record label. During a heated meeting with the band, Foster steadfastly refuses to release "Bohemian Rhapsody" as a single, noting that radio stations wouldn't play a six-minute song. "Mark these words. No one will play Queen," he says in the movie. Queen, and especially Freddie, don't back down, and they walk out of Foster's office.
There is no mention of a Ray Foster in previous Queen articles, books or documentaries, so it appears he's a fictional character. There's some talk that he's loosely based on Roy Featherstone, the band's A&R guy at EMI Records. According to Queen: As It Began, Featherstone was eager to sign the band after he heard a tape of Queen's first album in 1973 while in France. He even sent a telegram urging the group not to sign with any other label until he returned. "I was knocked out," Featherstone later recalled upon hearing the tape. "What stood out to me as the combination of Freddie's voice and Brian's guitar on a track called 'Liar.'"
Perhaps the character of Foster in the film is a composite of several EMI record executives who were concerned about the slim chances of "Bohemian Rhapsody" getting airplay on the radio. In Mark Blake's Is This the Real Life?, EMI executive Paul Watts recalled, "I was expecting something very special. So when they played me 'Bohemian Rhapsody,' my reaction was, 'What the fuck's this? Are you mad?'" Regardless, Queen were vindicated when "Bohemian Rhapsody" took off after the song was played on DJ Kenny Everett's radio show.
The Real Paul Prenter, Mercury's Personal Assistant and Hanger-On
Outside of the press, the main antagonist in Bohemian Rhapsody is Paul Prenter (Allen Leech). He first enters Queen's orbit as an assistant to the band's manager John Reid, and he later becomes Freddie's personal assistant, acting as a schism between the singer and the rest of the band. In the movie's climax, Freddie fires Prenter, especially after he learned that Prenter didn't tell him about the upcoming Live Aid event. In turn, Prenter talks to the media about unflattering aspects of Freddie's personal life.
According to Blake's book, the real-life Prenter was fired by Mercury apparently for another reason. As recalled by Queen's former roadie Peter Hince, Prenter threw a party at Freddie's residence, and the place got trashed. "So Freddie sacked him," Hince recalled. "Paul started ranting, 'I'm gonna do this!' and 'I'm gonna do that!' And that's exactly what he did."
Both May and Taylor said in later interviews that Prenter's impact on Freddie was harmful. "He was certainly responsible for leading Freddie off on a different path, and it would be fair to say that we parted on terms that were less than good," May later wrote in his book Queen in 3-D. "He was a very, very bad influence upon Freddie, hence on the band, really," Taylor added in Days of Our Lives. Blake notes that Prenter died of an AIDS-related illness in 1991.
In one of the trailers released before the movie's premiere, Brian is seen in the studio teaching his bandmates a piece of music that involves both hand-clapping and foot-stomping that would give people something to do in unison at Queen shows. That song became the immortal anthem "We Will Rock You." But what's unusual about the clip is that Freddie is seen with short hair and a thick mustache, a look that's generally associated with him from the '80s.
The actual recording of "We Will Rock You" took place in 1977 when Mercury didn't have a mustache and still had longer hair, at least publicly. It is true that May wanted to write a crowd anthem after he saw audiences singing after the end of a Queen show at Bingley Hall. "On this particular occasion, they didn't stop," May recalled in Days of Our Lives. "When we went offstage, they sang 'You'll Never Walk Alone' to us. I gone to sleep thinking, 'What can an audience do? They're all crammed in there, they can't do much, but they can stamp their feet, they can clap their hands and they can sing.' So I woke up with 'We Will Rock You' in my head."
The four members of Queen all had headstrong personalities and different musical ideas. Not surprisingly, they fought over what songs would end up on albums and which would be released as singles. In that respect, the movie accurately captures that tension. But a scene that takes place in the early '80s, where Freddie announces to the rest of the band that he wants to go solo, leaves the impression that he broke up Queen.
According to books, articles and documentaries, it was unanimously agreed among all four members that they needed to take a break after 1982's Hot Space. And it wasn't only Mercury who recorded his first solo album, Mr. Bad Guy, during this period; May had his Star Fleet Project record, and Taylor prepared for what would become the 1984 album, Strange Frontier. (Taylor had also released a solo single, "I Wanna Testify," in 1977.) Queen later regrouped in 1983 to record The Works, generally considered a return to form after Hot Space.
Also in the movie, when the band meets to discuss performing together again at Live Aid, Freddie agrees that all future songwriting credits would be shared equally in order to appease his bandmates. In reality, the members of Queen didn't share songwriting credits for an entire album until 1989's The Miracle. "It was breaking up the whole time!" May said to Mojo in 2017. "All of us left the band at some point, and not just one time -- all the way through. But we always came back."
One of the most poignant moments in Bohemian Rhapsody is when Freddie learns he's HIV positive after a consultation with a doctor — which, in the movie, happens before Queen's Live Aid appearance in 1985. One day, after Queen rehearse for the big event, Freddie bravely tells his bandmates about his condition and they immediately rally around him.
But in previous narratives, both official and unofficial, Mercury's HIV diagnosis happened sometime after Live Aid or the band's 1986 Magic tour, and that the other members of Queen didn't know about the singer's illness until 1987 or 1988. "As soon as we realized Freddie was ill," May told Mojo in 1999, "we clustered around him like a protective shell. We were lying to everyone, even our own families, because he didn't want the world intruding on his struggle. He used to say, 'I don't want people buying our records out of sympathy.' We all became very close." Despite being hounded by the media about his frail health, Mercury didn't publicly reveal that he had AIDS until Nov. 23, 1991, the day before he died.
Everything You Need to Know About the Queen Movie 'Bohemian Rhapsody'