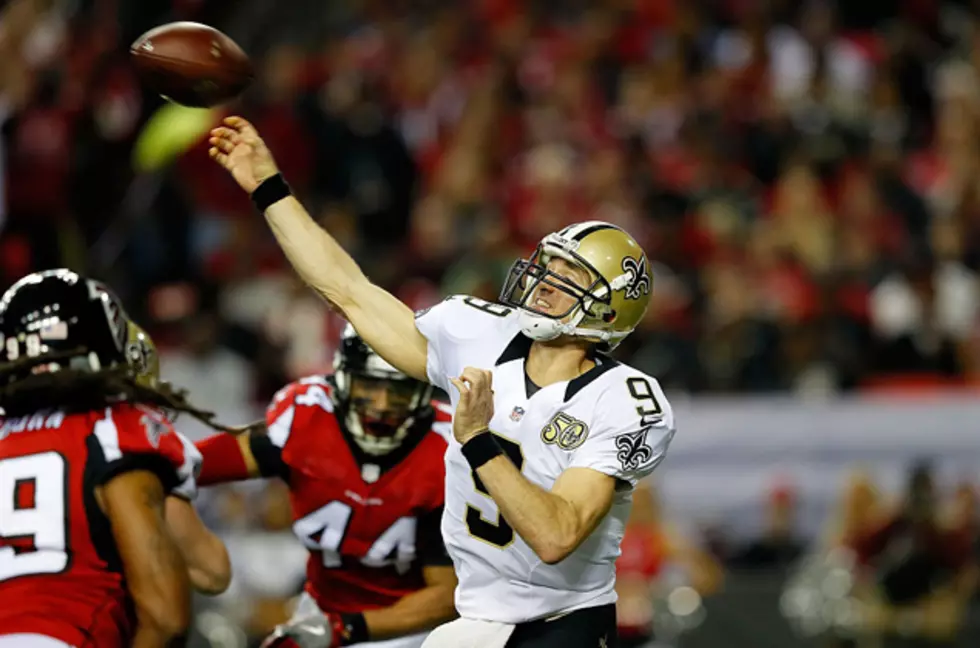 New Orleans Saints 2017 Schedule
Getty/Kevin Cox
Let's see now. When we left off last season, the Saints were 7-9 and had missed the playoffs for three years in a row. Experts are now saying that the Saints have a pretty important  season coming up and it just may determine a lot of things about the future of the franchise.
Saints fans will love the fact that their team is kicking off Monday Night Football next season with a match-up against the Vikings. the following week, our Saints will have a "must see" game when Drew Brees and Tom Brady will battle it out with the defending Super Bowl champs, the Patriots.
Week 4 will see the Saints across the pond in Wembley Stadium where they'll take on the Dolphins. You'll have to get up early to see that match-up since the broadcast is from London, the game will be at 8:30 a.m. on October 1st.
Those are some of the highlights; here's the complete season schedule:
Week 1: Sept 11 Monday Night Football at Minnesota Vikings, 6:10 p.m. CT (ESPN)
Week 2: Sept 17 vs. New England Patriots 12 p.m. CT (CBS)
Week 3: Sept 24 at Carolina Panthers 12 p.m. CT (FOX)
Week 4: Oct 1 at Miami Dolphins in London, England, 8:30 a.m. CT (FOX)
Week 5: BYE
Week 6: Oct 15 vs. Detroit Lions, 12 p.m. CT (FOX)
Week 7: Oct 22 at Green Bay Packers, 12 p.m. CT (FOX)
Week 8: Oct 29 vs. Chicago Bears, 12 p.m. CT (FOX)
Week 9: Nov 5 vs. Tampa Bay Buccaneers, 12 p.m. CT (FOX)
Week 10: Nov 12 at Buffalo Bills, 12 p.m. CT (FOX)
Week 11: Nov 19 vs. Washington Redskins, 12 p.m. CT (FOX)
Week 12: Nov 26 at Los Angeles Rams, 3:05 p.m. CT (FOX)
Week 13: Dec 3 vs. Carolina Panthers, 12 p.m. CT (FOX)
Week 14: Dec 7 Thursday Night Football at Atlanta Falcons, 7:25 p.m. CT (NBC, NFL)
Week 15: Dec 17 vs. New York Jets, 12 p.m. CT (CBS)
Week 16: Dec 24 vs. Atlanta Falcons (Christmas Eve), 12 p.m. CT (FOX)
Week 17: Dec 31 at Tampa Bay Buccaneers (New Year's Eve), 12 p.m. CT (FOX)