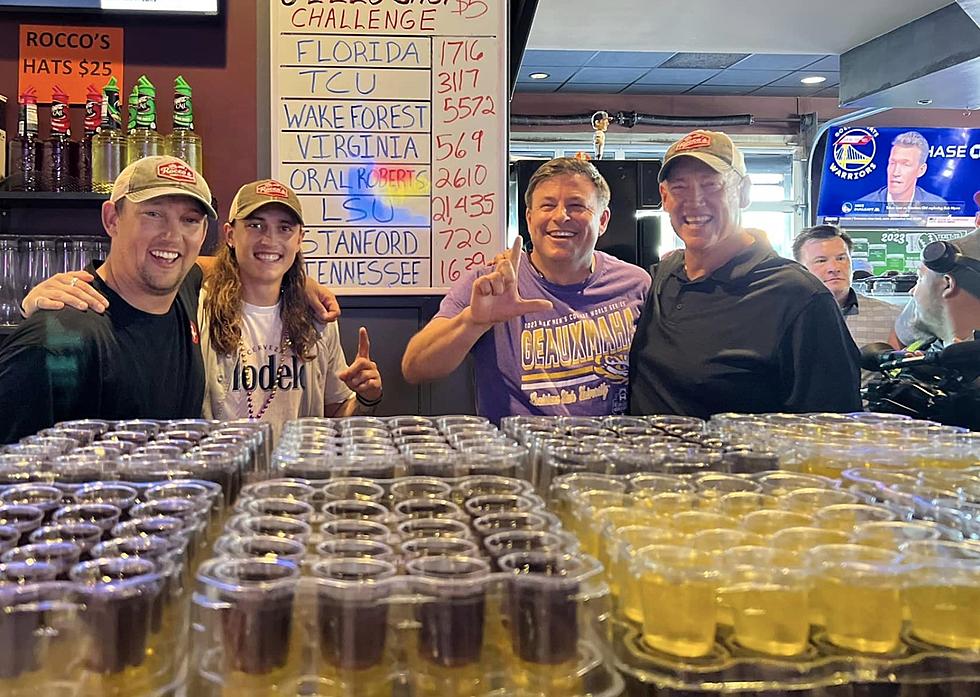 LSU Food Bank to Receive Huge Donation After Jello Shot Competition
Rocco's Facebook
Good news for the food bank on the campus of LSU in Baton Rouge.
As you may already be aware of, there was an intense competition in Omaha amongst fan bases at the College World Series.
The competition was to see which fan base could purchase the most Jell-O Shots at Rocco's Pizza & Cantina.
And while the competition was great, the cause behind it was even better.
The Omaha establishment pledged to send each university $2 per shot sold and now they are owning up to their promise.
The LSU food bank was notified that they would be receiving a $60,000 donation from Rocco's after LSU fans purchased just over 68,000 shots during their visit to Omaha.
LSU fans and some local business people crushed the previous record of Jell-O shots purchased at Rocco's as the Tigers marched through the tournament in Omaha.
The donation coming from Rocco's in Omaha will be the single largest donation to the food bank on the campus of LSU.
So, if you or someone you know contributed to the over 68,000 Jell-O shots purchased in Omaha, it was for a great cause and some students on the campus of LSU will benefit from your purchase at Rocco's.
Management at Rocco's Pizza and Cantina say it was a pleasure to host LSU fans in their establishment, and that they plan to visit Baton Rouge for an LSU football game.
To read more on this generous doantion, click HERE.
Check out some of the great moments from Rocco's as LSU fans shattered the previous Jell-O shot record in Omaha.
LOOK: The 25 least expensive states to live in