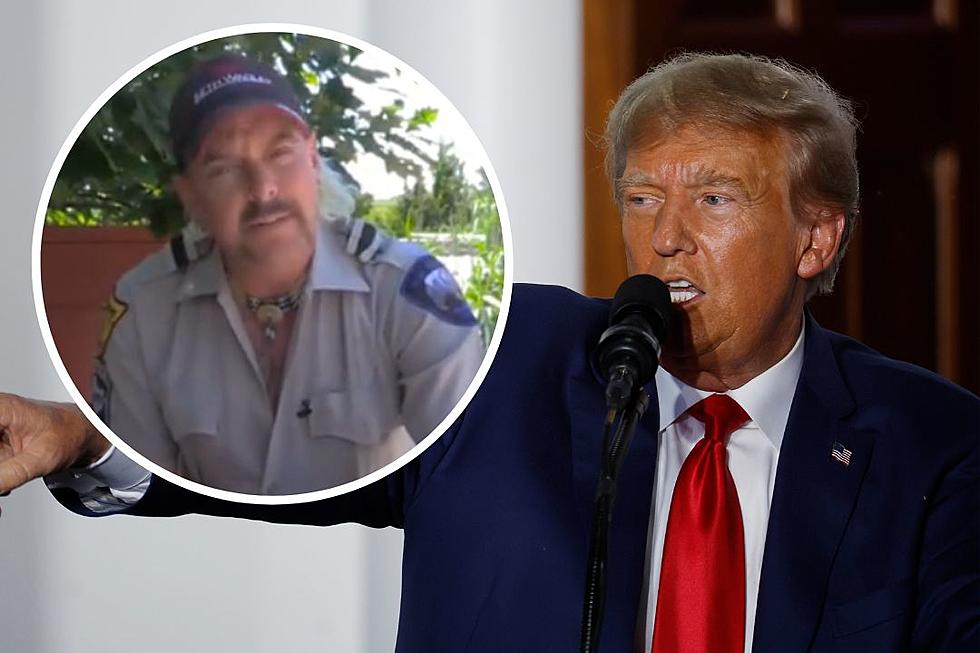 Joe Exotic Wouldn't Pardon Donald Trump Purely out of Spite if Elected President
@thereal_joeexotic via TikTok / Chip Somodevilla, Getty
Tiger King star Joe Exotic has declared that if he's elected president, he won't pardon disgraced former president Donald Trump purely to get back at him.
Exotic revealed his intention in a reply to a tweet from 2024 Republican Party primaries candidate Vivek Ramaswamy.
"I challenge every U.S. presidential candidate to join me in standing for TRUTH. Commit to pardon Donald Trump for these federal charges on Day 1, or explain why you won't," Ramaswamy tweeted on June 13.
Responding to Ramaswamy, Exotic wrote that he would consider pardoning Trump, but only "after he spent at least 30 days in the same solitary confinement as any of the rest of us so he knows just how bad it sucks to be innocent and stuck in this f---ed up system."
"He didn't pardon me so he is not getting a pardon on day one out of me," Exotic added.
Warning: Tweet below contains strong language.
Exotic, real name Joseph Allen Maldonado-Passage, is currently serving a 21-year prison sentence for animal abuse and two counts of attempted murder.
In January 2021, the famous zookeeper claimed that Trump only refused to pardon him because he was "too innocent" and "too gay."
"I only mattered to Don Jr. when he needed to make a comment about me to boost his social media post. Boy, were we all stupid to believe he actually stood for Equal Justice? His corrupt friends all come first," Exotic alleged on Twitter.
READ MORE: Kid Rock Trends on Twitter After Making Bizarre Donald Trump Claim
Exotic officially announced his run for president in the 2024 election back in March.
"Thank you for your interest in my campaign. Yes, I know I am in federal prison, and you might think this is a joke, but it's not. It is my constitutional right to do this even from here," Exotic's campaign website reads.
Exotic has also been sharing his political stances and campaign promises on TikTok.
Celebrities Who Have Been Arrested