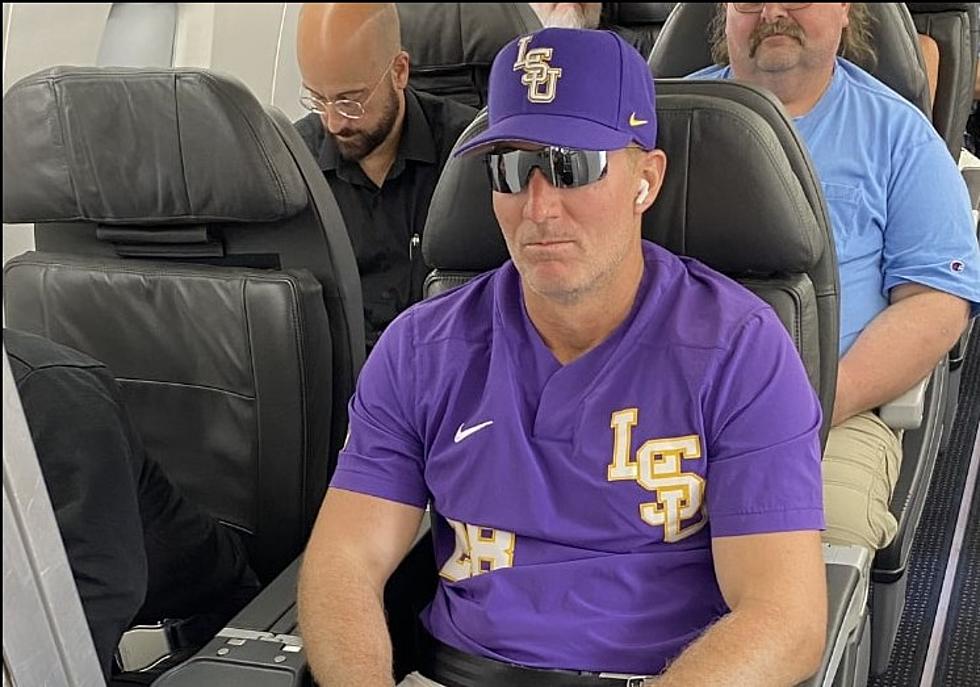 SEC Network Broadcaster Pays Up After Betting Against LSU in College World Series
Courtesy of Ryan McGee
Peter Burns and Chris Doering are co-hosts on the SEC Network and good friends. But based on their SEC allegiances, Burns a Baton Rouge native and Doering, a former Florida wide receiver, can be rivals as well.
So when LSU and Florida play in a big game the two tend to make a wager.  It usually ends up with Doering wearing a ridiculous costume.  This year was no different.
Once the College World Series got down to LSU and Florida, the two made another wager.  The loser would have to travel to SEC Media Days in the uniform of the winning team.
Doering paid his bet off in spades.  Traveling from Gainesville through Charlotte and finally landing in Nashville in a full LSU Baseball uniform, sliders included.
This is the fifth straight bet Doering has lost to Burns.  Give him credit, he follows thru with a stiff upper lip.
Doering will have to wait until November 11 to start getting even when the Florida Gators visit Baton Rouge to play the Tigers. 
Or more likely to happen, what costume should Burns make Doering wear following another LSU victory or Florida?
Pro Athletes From the Acadiana Area
Louisiana has produced some of the best pro athletes in the world, especially in Acadiana.
Most Valuable Franchises in American Sports
Five of the ten most valuable franchises in American sports come from the NFL.
10 States With Most NFL Players Per Capita
Which states produce the most NFL talent per capita? The top 10 list has a few big surprises.