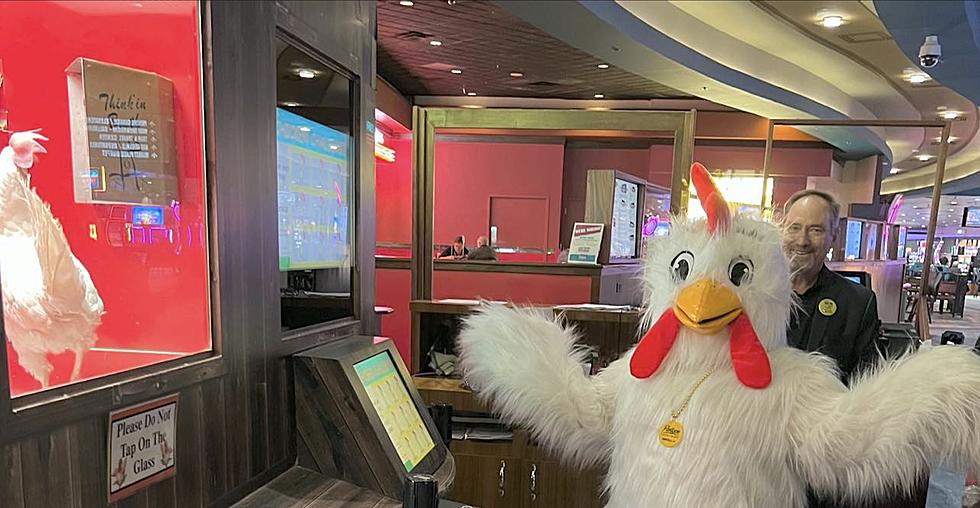 Are You Smarter Than a Chicken? A Louisiana Casino Issues the Ultimate Challenge
Credit: Paragon Casino Resort/Facebook
MARKSVILLE, La. (KPEL News) - You may have heard of the show "Are You Smarter Than a Fifth Grader?" and you may have laughed when, as it turned out, a lot of adults weren't. But there is an even more important question that one Louisiana casino is asking patrons.
Are you smarter than a chicken?
Paragon Casino Resort is issuing the call and inviting its guests to face off against a live chicken - no, we are not making this up - in a game of "Chick-Tac-Toe."
Guests are allowed to play a game of Tic-Tac-Toe against a professionally trained chicken (are there applications for this job?) for the chance to win up to $500 free play.
More from Paragon's website:
Play tic-tac-toe against a live chicken up to three times per day. Earn 75 points the first play, 50 more points for the second play and another 50 points for the third.

Winners get to pick an egg from a basket to receive up to $500 cash perks, a chicken t-shirt, and beads!

If the chicken lays an egg during your game, you get $100 free play!

Even if you lose your game, you still have a chance to win $250 Free Play in our Second Chance Drawings every Saturday at 5PM. Just fill out an entry form and deposit it in the drawing drum at the promotion stage.
The chicken is safely behind glass (please do not tap on the glass) in a "Thinkin' Booth," where it will wait for an opponent. The game is the classic back-and-forth between the chicken and its human opponent.
If the guest beats the Casino Chicken, according to KALB News, "he/she will win a Chick-Tac-Toe T-shirt, special beads and up to $500 free play. If the chicken lays an egg while a guest is playing, the prize for the guest will be $100 free play."
So... do you have what it takes? Are you smarter than a chicken?
Best Gas Stations for Food Near Lafayette
Sometimes, we're on the road for a trip. Sometimes, we're craving something you can only find at a local gas station. Here are the best gas stations for food according to y'all.
Gallery Credit: Joe Cunningham