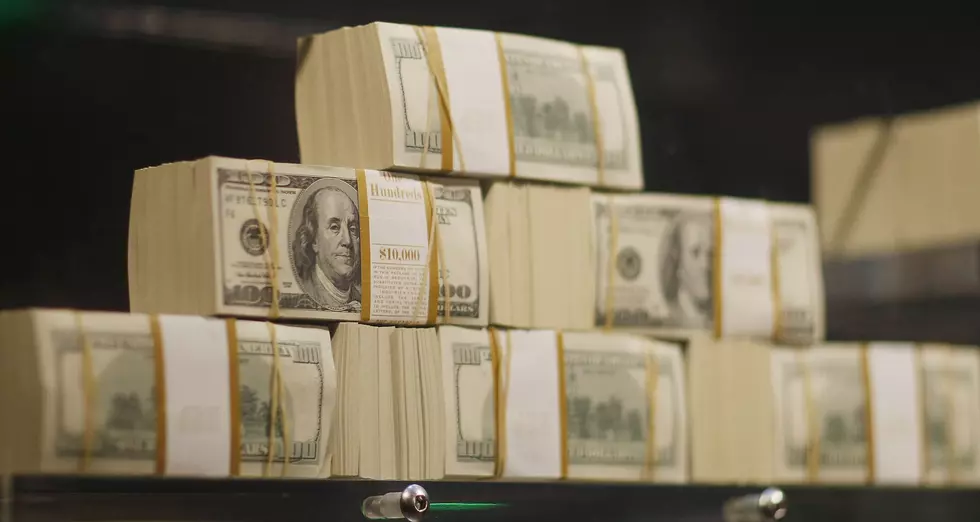 Louisiana Lottery Confirms $1.85 Million Dollar Winner
Joe Raedle/Getty Images
As Louisiana sits on the cusp of a three-day holiday weekend where we will honor those who work, there's probably at least one Louisiana resident who is contemplating taking a day off, or maybe longer. That's because that lucky Louisiana resident purchased a Louisiana Lottery ticket that based on Wednesday's drawing is worth $1.85 million dollars.
Last night, Wednesday, August 30th there was a Powerball drawing. Here's how those numbers bounced out of the hopper.
The jackpot prize for the Powerball game last night was an estimated $387.1 million dollars. There were no tickets sold across the game's footprint that matched the numbers needed to claim that prize.
If you'd like to check your numbers, the Powerball website says these were the numbers that were drawn for August 30, 2023.
04   13   35   61   69   Powerball 04  Power Play x4
The Texas Lottery is confirming a $2 million dollar Match 5 win in last night's drawing. According to information obtained from the Texas Lottery, the $2 million dollar winner was sold at Players Cafe on North Lamar in Austin, Texas. Again, that ticket matched all five of the white ball numbers but did not match the Powerball.
Louisiana Powerball players were not as fortunate. The largest Powerball win in Louisiana was $200. Five tickets sold for last night's game earned that prize. Another 11 tickets hit for a $100 prize.
Where Was the $50,000 Powerball Winner Sold in Louisiana for Saturday's Powerball?
We do have some more information on Saturday's big-money win in Louisiana. A $50,000 winner was sold in the Powerball game on August 26th. That ticket we have now learned was purchased at Loyola Shell in Kenner Louisiana.  We have also learned that a $90,000 Easy 5 winner from last Saturday's drawings was sold in Mansfield Louisiana. In both cases, the winners will need to sign the back of their tickets and contact the Louisiana Lottery to claim their prizes.
Where Was the $1.85 Million Dollar Lottery Winner Sold in Louisiana?
For this week's big winner in lottery draw games we'll turn our attention away from the multi-state drawings of Powerball and Mega Millions and focus on Lotto from the Louisiana Lottery. That game had not produced a jackpot winner since May 6th when a ticket sold in Houma hit for a prize of $700,000.
Last night the Lotto game produced the biggest win in the state. Officials with the Louisiana Lottery say the $1.85 million dollar winner was sold in New Orleans. They have not released exact point of purchase details as of this report. But we do know the big-money winner was sold in the Big Easy.
What Are the Top Prizes for Powerball and Mega Millions?
Heading into the weekend your first chance at a life-changing jackpot will come on Friday night when the Mega Millions game draws for an annutized estimated jackpot of $85 million dollars. That drawing will happen on Friday night at 10 pm.
Saturday the Powerball jackpot will be an annuitized estimated jackpot of $420 million. The Lotto game will reset to its starting amount of $500,000 and Easy 5 will seek another winner, this time for a $60,000 top prize payout.
As always we wish you good luck in lottery endeavors and we caution you to play responsibly. If you need help with a gambling issue or addiction help is available. The call to arrange that help is free. Just dial 1-877-770- STOP (7867). Good Luck.
6 Surefire Hacks to Open Any Stubborn Jar Lid
As you can see this man is trying to use his telekinetic powers to open these jars. If he continues he will go hungry. You, however, know that there are secret methods to getting these jars to go topless and reveal their bounty. What? You don't know the secrets? Well then scroll on my friend you're about to get your PhD in lid removal.