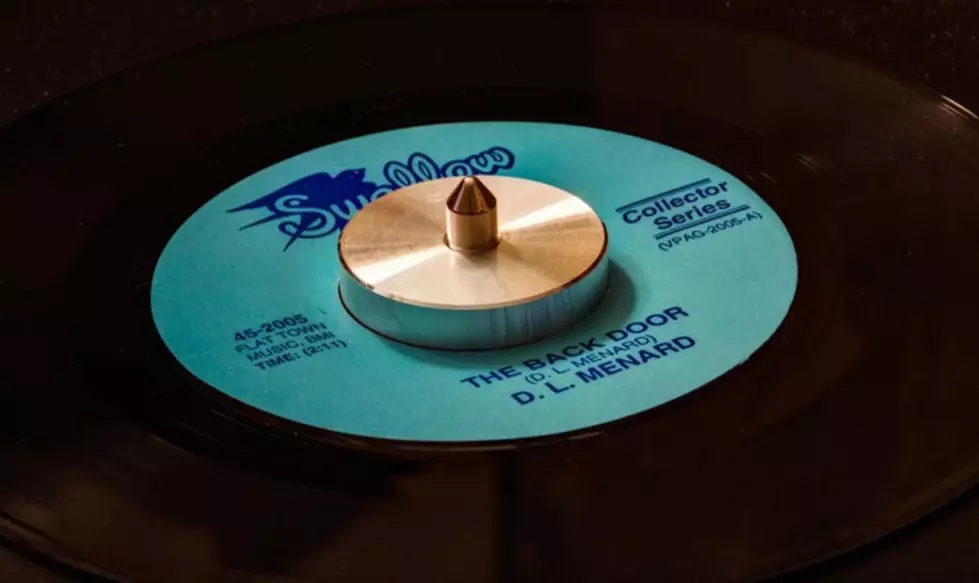 Five Things You Don't Know About The Most Popular Cajun Song Ever, 'The Back Door'
"The Back Door"/ YouTube
"The Back Door," written and recorded by Vermilion Parish native D.L. Menard, may be the most popular and recognizable Cajun song ever. When it was released in 1962, it sold over half a million copies and has been covered by dozens of bands internationally since the now-85-year-old composed it.
Whether it's Wayne Toups, Jamie Bergeron, Geno Delafose, or Mr. D.L. himself, as soon as those first notes are struck, most Cajuns know the chorus and sing along: "J'ai passe' dedans la porte d'en arriere."
But how much do you know about the artist, the song, or what it means?
1

He was inspired by Hank Sr.'s "Honky Tonk Blues."

Mr. D.L. grew up listening to music on a battery-operated radio, and that's how he learned to sing. He was a fan of Hank Williams, Sr., and classic country music. He admits to drawing inspiration for the style of "The Back Door" from Honky Tonk Blues.

2

Elias Badeaux was Mr. D.L.'s bandleader when the song was written. He recorded a waltz on one side of a 45RPM and needed a song on the flip side. His children loved the song, but "Badeaux said it stunk." According to the story Mr. D.L. tells in the above video, he wanted to give his kids a souvenir of the song, so he paid for the recording out of his own pocket. Needless to say, he made that money back in short order.

3

Mr. D.L. has been nominated for a Grammy twice.

His Le Trio Cadien album was nominated for Best Traditional Folk Album in 1993, before the categories became more specific. Happy Go Lucky was nominated in the Best Cajun and Zydeco Album category in 2010. "The Back Door" was not on either of these albums.

4

"Rolling Stone" named it one of the 100 Greatest Country Songs of All Time!

In 2014, Rolling Stone magazine compiled its list of the 100 greatest country songs of all time. Among classic country artists like Tammy Wynette, Merle Haggard, Johnny Cash, Patsy Cline, George Jones, and Loretta Lynn, and newer country stars like Eric Church and Carrie Underwood, is Mr. D.L. Menard's "The Back Door" sitting at number 72. The young man from Erath, Louisiana, had landed among the people who had inspired him more than 60 to 70 years earlier as he listened to them on the radio living on his parents farm.

5

Here are the lyrics and what they mean in English.

Here are the lyrics in Cajun French:

Moi et ma belle on avait été au bal
On a passé dans tout les  "honky tonks"
S'en a revenu lendemain matin
Le jour était après se casser
J'ai passé dedans la porte en arrière

Après midi moi j'étais au village
Et j'm'ai saoulé que j'pouvais plus marcher
Ils m'ont ramené back à la maison
I y-avait de compagnie c'était du monde étranger
J'ai passé dedans la porte en arrière

Mon vieux père équand i est arrivé
Il essayait de changer mon idée
J'ai pas écouté moi j'avais trop la tête dure
Un jour avenir mon nèg tu vas avoir du regret
T'as passé dedans la porte en arrière

J'ai eu un tas d'amis quand j'avais de l'argent
Asteur j'ai pus d'argent mais i voulont pus me voir
J'étais dans le village et moi je m'ai mis dans le tracas
La loi m'a ramassé, moi je suis parti dans la prison
On va passer dedans la porte en arrière

Here are the lyrics via Google Translate:

Me and my beautiful one had been at the ball
We went through all the "honky tonks"
We came back the next morning
The day was after breaking
I passed in the back door

That afternoon I was in the village
I got so drunk I couldn't walk no more
They brought me back home
There was company it was strange people
I passed in the back door

My old father
He was trying to change my idea
I did not listen to me I had too hard head
A future day, my <friend>, you gonna have regret
You passed in the back door

I had a bunch of friends when I had money
<Now that>; I have no money they no longer want to see me
I was in the village and I put myself in the hassle
The law picked me up, and me, I went to prison
We'll go through the back door.

 

"The Back Door" by D.L. Menard ©Flat Town Music Company, Lyrics displayed by permission and may not be copied or reprinted for commercial use without license