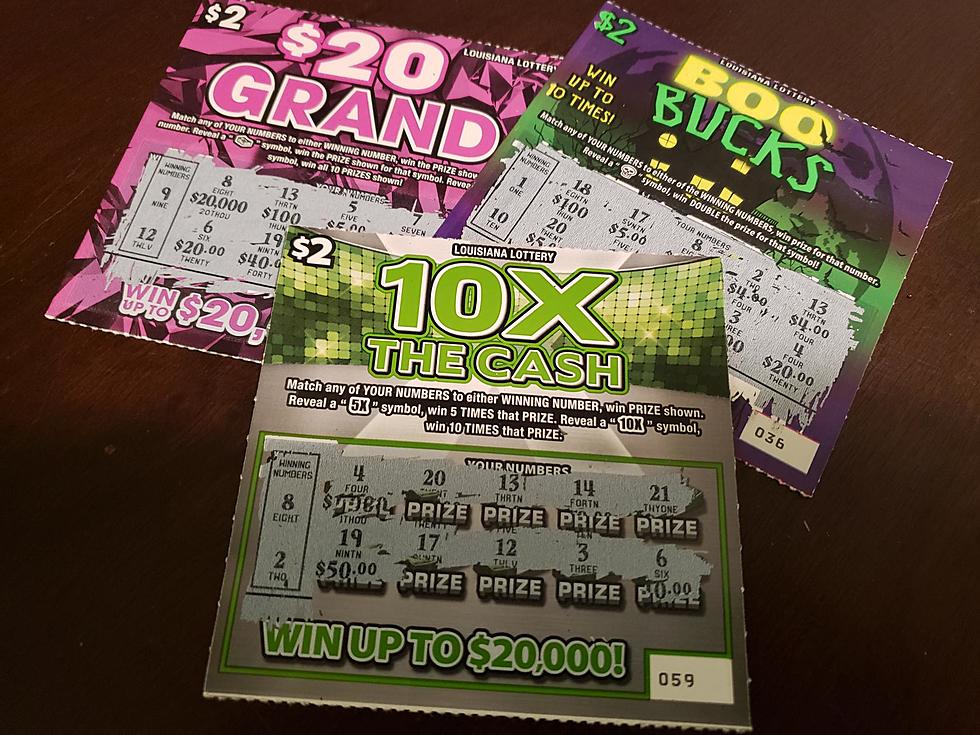 Best Louisiana Lottery Scratch-Offs for Big Money This Summer
Staff Photo
Lottery players in Louisiana must feel abandoned. It's been more than quite a while since Lady Luck has made an appearance in the state to produce a big-money winner on any of the state's big-money draw games. You know games like Powerball and Mega Millions. In fact, the last "big winner" on a draw game in the state was an Easy 5 ticket sold in Gonazles last month that hit for $280,089 dollars.
Since then the word "bupkus" would apply as far as big money wins on draw games in the state. Incidentally, we consider a win of $10,000 or more on a single ticket to be a "big win". Now speaking of big wins, we do believe they are looming in the not-too-distant future for those who like to try their luck with Powerball or Mega Millions.
The reason we believe there will be big money winners in the next few days and weeks is based on math and tendencies. Usually, when lottery jackpots reach $300 million or more that's when the casual player gets involved.
More players means more chances to get winners and right now Powerball is estimated to be $285 million for Wednesday's drawing and Mega Millions is estimating their Friday jackpot will be $240 million on Friday. So, we are right at the cusp of that $300 million threshold.
So, if the draw games aren't hitting, maybe the scratch-offs are? This seems to be a reasonable assumption especially when you consider how many top cash prizes are available on many of the Louisiana Lottery's latest scratch-off games. But because you have so many options in scratch-offs and so many different dollar amounts you can spend per ticket we thought you might want to see which games have the biggest prizes remaining.
What $1 Dollar Louisiana Lottery Games Still Have the Biggest Prizes?
Well, the first thing you should know is based on information from the Louisiana Lottery each one-dollar scratch-off has a little better than one in five chance it will be a winner. That means if you bought five tickets chances are at least one of those tickets would return some of your money but not necessarily the game's top prize.
The one-dollar game with the most top prizes remaining is a new one, it's called Wham! Zap! Ka-Pow! The one-dollar scratcher features a top prize of $5,000 and there are nine of those top prizes remaining in the game. The game has only been out for three weeks so there are lots of prizes, big and small still available.
Bonus Bucks is another one-dollar scratcher you might consider. It's been out a little less than a month as well and features a top prize of $4,000. There are still eight of the game's nine jackpots still available, so that's one to consider too.
And if you're not looking to win thousands of dollars and would be happy with a prize of say $100 bucks then you should look into HIT 100. This one-dollar scratcher has a top prize of $100 bucks and there are currently 1,509 of those prizes remaining in the game but your odds of hitting a $100 win are pretty steep, 1 in 913.27.
What $2 Dollar Louisiana Lottery Games Still Have the Biggest Prizes?
Of the newest $2 dollar scratchers offered by the Louisiana Lottery, Big Money Multiplier, and Prize Explosion, I'd opt for the Big Money Multiplier. Prize Explosion has already had half of its top prizes claimed while Big Money Multiplier has four of its top prizes remaining. By the way, the top prize in both games is $10,000.
Again, if you're only looking to win a few hundred bucks then HIT 200 might be for you, it's top prize is $200 bucks and the game still has 1,667 of those prizes available to win.
What $3 Dollar Louisiana Lottery Games Still Have the Biggest Prizes?
In the $3 category High Voltage Bingo appears to me to be the best bet for a big payout. The game's top prize is $30,000 and 80% of the game's jackpot tickets are still in play. What makes this game interesting to me is that it has been in circulation since February and it still has a lot of big money wins available. This might be a sleeper game for someone who is feeling lucky.
There are a few other $3 games out there from which you can choose but looking at the math and the odds, I think I might either spend a buck less or spend a few bucks more to get into a different game category. The $3 tickets are quite popular and many of the games only have a few top prizes left.
What $5 Dollar Louisiana Lottery Games Still Have the Biggest Prizes?
Spicy Hot Win are the only three words you need to know. This game is brand new for the Louisiana Lottery. It was released on May 30th and 100% of the game's top prize-winning tickets are still in circulation. The top prize? $100,000. So, even though the odds are long there is considerable cash available with this game.
We might also suggest HIT 500 with a top prize of $500. There are over 1,700 $500 prizes still available with this game and it has been out for about six weeks. The drawback of this game to me is the large risk of $5 bucks for a reward of $500 seems a bit steep but the jackpot winners are out there if you feel as if Lady Luck is with you.
What $10 Dollar Louisiana Lottery Games Still Have the Biggest Prizes?
I am not enamored with any of the $10 scratchers. Most of the games have been in circulation for a while and the $10 price seems pretty steep to win a top prize of only $5,000 but there are about 370 plus $5,000 winners still available in the game. If you ascribe to the "scared money don't make money" ideology, I'd use the $10 to play some of the other games in the other categories or buy more than a few Powerball or Mega Millions tickets.
What $20 Dollar Louisiana Lottery Games Still Have the Biggest Prizes?
There's only one game available and it's called Ultimate $500,000 and there are 75% of the game's jackpot tickets still available for purchase. The game is fairly new, it's only been out since May 15th. For my tastes, it's too expensive but if you have $20 burning a hole in your pocket and you can't wait it might be worth a flyer since there are some 30,000 plus tickets with prizes of at least $100 still available in the game.
Before You Buy any Lottery Ticket Know This
Most tickets are not big money winners. The odds, even for the smaller prizes are pretty steep and in most cases, you'll consider yourself lucky to just recoup your investment and maybe make a few bucks. Lottery odds are not in your favor but they are fun to play if you can afford to "lose".  If you're playing the lottery in hopes of winning money to pay a bill or rent or buy food you'd be better off holding on to your cash and using it for the purposes it is really needed.
That being said, we hope this very simplistic review of the games and the prizes available will allow you to pick a winner should you choose to play. If you need help with a gambling problem, call 1-877-770-STOP (7867). The call is friend and so is the referral.
10 Festivals We Don't Have in Louisiana But Need
We have festivals for just about everything in Louisiana, but there are still quite a few great ideas out there.