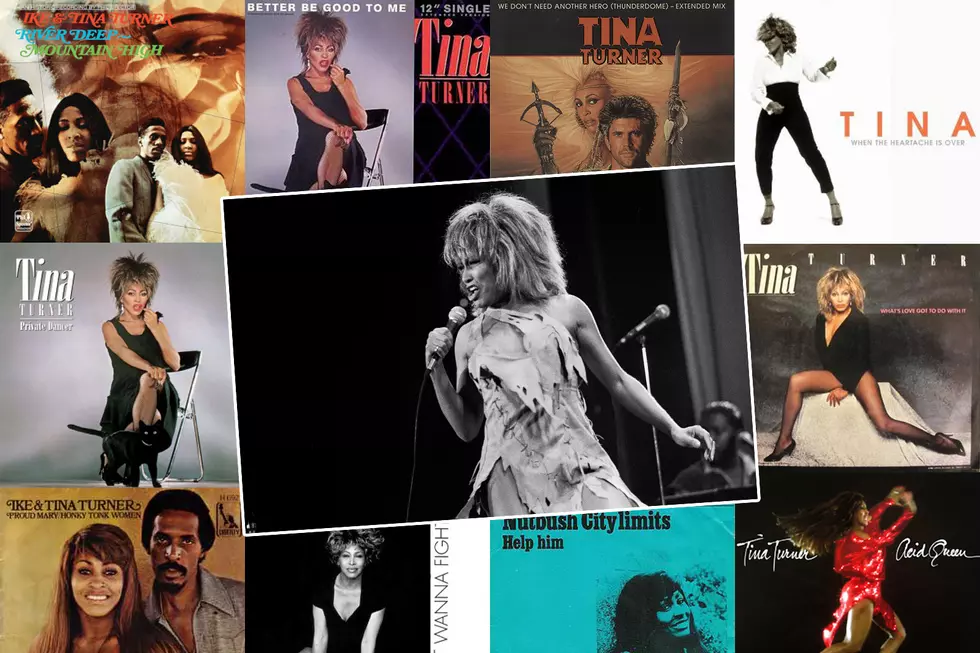 UCR
The true titans leave behind a legacy that's almost too big to really get your head, especially your ears, around. That's certainly the case with Tina Turner.
Turner logged a few eras as a performer, starting with abusive ex-husband Ike Turner, then an early period as a solo artist and finally the multi-platinum icon status that Private Dancer ushered in during 1984. Along the way Turner recorded a great deal of music and more than her share of classic R&B, pop and rock hits -- not to mention some impressive collaborations.
The majority of Turner's biggest hits were written by others, but her performances almost always succeeded in finding the root emotions and building them towards an affecting resolve, as if every word was coming from her own heart. And let's not forget that especially in the Ike days she held her own as a writer, never better than in essaying her youth into "Nutbush City Limits."
It is, of course, hard to choose the best from such a long and accomplished career. But these are the 10 that belong at the top of any discussion of Turner's most memorable recorded performances...
10. "When the Heartache is Over"
From: Twenty Four Seven (1999)
Turner hit the pop dance floor for the lead single from her final album, Twenty Four Seven. Her chart days were over, at least in the U.S. (it reached No. 10 in the U.K.) but her command and emotional control were in fine form on a song a lesser vocalist would have completely over-sung.
9. "I Don't Wanna Fight"
From: What's Love Got to Do With It (1993)
Co-written by Lulu for the soundtrack/companion album to the What's Love Got to Do With It film, "I Don't Wanna Fight" let Turner take a slightly different direction -- smoother and more pop-focussed, her dynamic drama replaced by restraint, but without sacrificing any emotion. Yet another song that benefits from the unapologetic tone Turner brought to her best performances.
8. "We Don't Need Another Hero (Thunderdome)"
From: Mad Max Beyond Thunderdome (1985)
The nominal title song and first single from Mad Max Beyond Thunderdome found Turner on a hot streak immediately after Private Dancer and making her mark as a formidable movie villain. Another one penned by the "What's Love Got to Do With It" team of Terry Britten and Graham Lyle, the track built with a taut dynamic leading up to its chorale conclusion, but none of the production elements affected Turner's dominance, giving the song a life of its own away from the film.
7. "The Acid Queen"
From: The Acid Queen (1975)

If anyone had forgotten how good Turner was, her cameo as the Acid Queen in Ken Russells' film verison of the Who's Tommy was a welcome smack upside the head. The funky arrangement for this remake was polarizing back then (and, depending on your mood, still sounds wonky), but Turner imbued the version with rocking authority quite different from Roger Daltrey's 1969 original, at once beguiling and threatening. It's a good, if different, trip.
6. "Better Be Good to Me"
From: Private Dancer (1984)

This rocking statement of purpose, which won a Grammy Award for 'Best Rock Vocal Performance, Female,' was one of several Private Dancer tracks that spoke to Turner's life situation at the time, even though she didn't write it. An all-star trio of Nicky Chinn, Mike Chapman and Holly Knight did the honors, with Rupert Hine producing and the Fixx's Cy Curnin singing backup. It was Turner who killed it, though, seemingly venting years of anger and frustration into a declaration that made clear she was not someone to be trifled with anymore, turning a near-whisper into a threat during the breakdown section.
5. "What's Love Got to Do With It"
From: Private Dancer (1984)
The fifth time was the charm for songwriters Lyle and Britten. They'd offered "What's Love Got to Do With It" to Cliff Richard, who passed, then to Phyllis Hyman, whose label chief (Clive Davis) rejected it, then to Donna Summer, who held onto it for two years but never recorded it. The British band Buck Fizz did, but never released it. Timing is everything, of course, and though Turner initially resisted the tune (which Britten produced for the Private Dancer album) it became a signature song that perfectly fit her life situation at the time -- and wound up giving Turner her first No. 1 hit on the Billboard Hot 100.
4. "Private Dancer" (1984)
From: Private Dancer (1984)

The title track of Turner's comeback juggernaut was penned by Mark Knopfler but left off Dire Straits' Love Over Gold album in 1982 because he didn't think the lyrics fit a male singer. Most of the Straits crew, sans Knopfler, appears on the track, with Jeff Beck taking the guitar solo and Mel Collins on saxophone. Turner's restraint and vocal dynamics are masterful, affirming Knopfler's instincts for what would serve the song best.
3. "Nutbush City Limits"
From: Nutbush City Limits (1973)

Turner turned autobiographical (at least partly) for this hard rocker that that also provided a title for the then-latest Ike & Tina Turner album. One of the duo's last big hits (No. 22 on the Billboard Hot 100), it even spawned a line dance called The Nutbush during the disco era a few years later. Interestingly, Nutbush -- Turner's home town in Tennessee -- does not have formal city limits; the town is classified "unincorporated," with loose boundaries inside Haywood County.
2. "Proud Mary"
From: Workin' Together (1970)
Truth be told, Ike and Tina Turner did some things nice 'n' easy -- but not this version of the Creedence Clearwater Revival hit. It's one of the few times in pop history that a remake gives the original a run for its money, and this one replaces CCR's easy groove with a ferocious, brassy workout that lit fire to the river the "Proud Mary" was rollin' along, with Turner's teasing intro and explosive vocal the star of the show.
1. "River Deep -- Mountain High"
From: River Deep - Mountain High (1966)

An Ike & Tina Turner single in name only, this was a Tina vehicle that teamed her with Phil Spector's Wall of Sound from an anthem the producer co-wrote with Jeff Barry and Ellie Greenwich. The Wrecking Crew, 21 members strong, met the Brill Building in classic fashion, with a then-massive budget of $22,000 -- and worth every penny. Always in the discussion of the greatest pop songs of all time.
Top 25 Soul Albums of the '70s
There's more to the decade than Marvin Gaye and Stevie Wonder, but those legends are well represented.