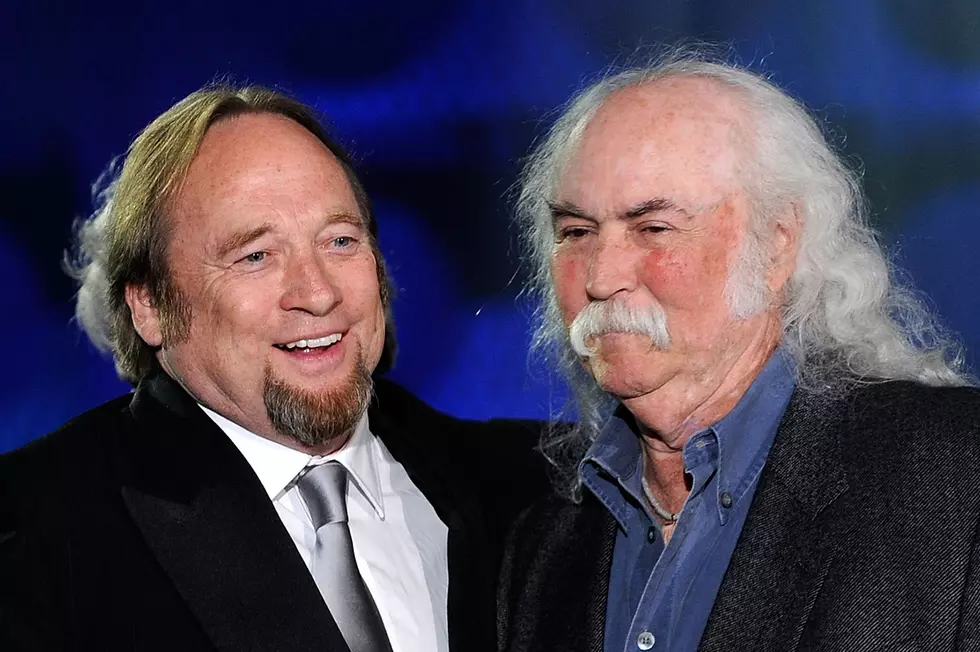 Stephen Stills 'Shocked but Not Surprised' by David Crosby's Death
Larry Busacca, Getty Images
Stephen Stills paid tribute to former bandmate David Crosby, saying the 81-year-old's death was a shock.
Crosby died on Jan. 18, and while an official statement said he suffered from "a long illness," he was also working on a new album and touring plans. Stills discussed his feelings in a new interview with Rolling Stone. "I'm shocked but not surprised," he said.
"I love the guy. He was a big force in my life and a towering musician. He was all excited about his new band. [My son] Christopher was in his band, and they were going to get back on the road a little. He just went to take a nap and didn't come back. When you think about it, it beats the hell out of being in a hospital with people beating on your chest or something."
Reflecting on Crosby's reputation as a troublemaker, Stills said, "When you're young, if you're not fighting, someone doesn't care enough about the music. When you get middle-aged, you should be able to do it without fighting. Later on, you turn into a curmudgeon, especially if you're as clever as David was.
"But it's a cyclical thing, these relationships. And this was a lifetime relationship. That's hard to let anybody else inside of." Stills regretted that their last meeting, at the funeral of Crosby, Stills & Nash keyboardist Mike Finnigan in 2021, was a brief one. "It was time to reconnect with the old Croz," he said. "Then he just went out the back door."
While Stills noted he's been working on his story in a memoir, he said it won't arrive anytime soon. "I stalled out for a while," he explained. "I'm learning to wait on that. There's no such thing as writer's block. There's just avoiding silly writing. When you find yourself doing that, stop for a while." He added that a documentary was also being discussed, but that is some time away from completion, too.
Top 200 '70s Songs
Ultimate Classic Rock counts down the Top 200 '70s Songs.