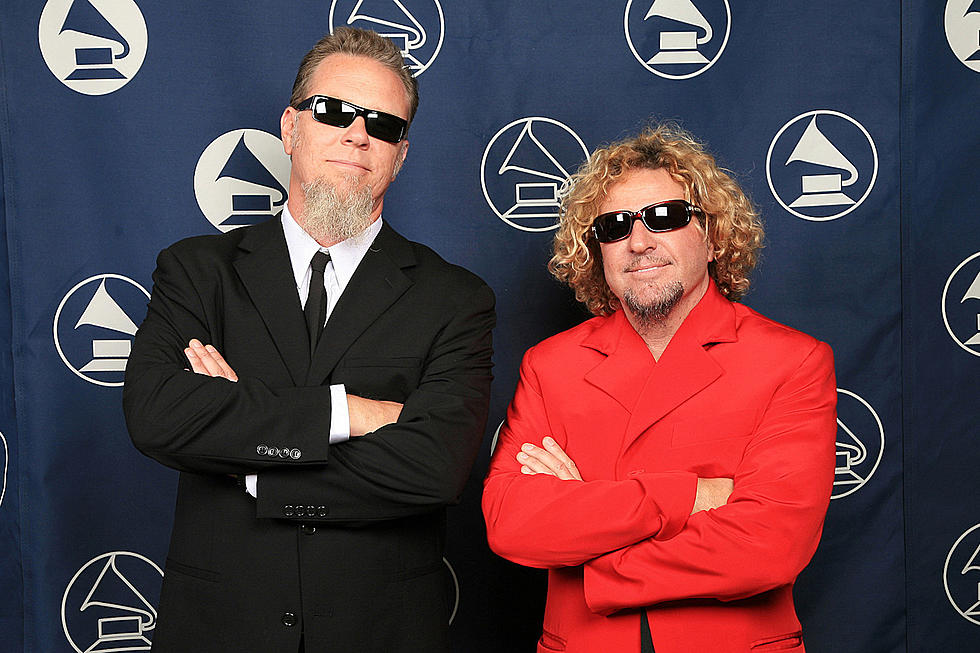 Sammy Hagar Says Metallica Owes Him $200
Steve Jennings, Getty Images
Sammy Hagar said Metallica still owes him $200 for a bet he placed with the thrash icons in 1988.
In a recent Instagram post, the former Van Halen singer shared a press photo taken ahead of the Monsters of Rock '88 tour — which featured Van Halen, Scorpions, Dokken, Metallica and Kingdom Come — and explained the wager he'd placed on Metallica's future success.
"This was the press conference for the Monsters of Rock stadium tour," Hagar wrote. "I must admit we had a good time that day hanging out with all these guys. Metallica hadn't [broken] yet with 'Enter Sandman,' but they crushed it every night [and] put a big hurt on Dokken, who had to follow them — ouch!"
Hagar knew even back then that Metallica was going to be huge. "I bet the members of Metallica $100 each that at the end of this tour their next record would go platinum," he added. "So far, Lars [Ulrich] and Kirk [Hammett] are the only ones that paid up."
The album in question was …And Justice for All, released in September 1988. It marked Metallica's first release with bassist Jason Newsted — who, along with frontman James Hetfield, apparently still owes Hagar $100 — and became their fastest-selling LP to date, going on to sell more than 8 million copies in the United States.
In 1991, Hammett recalled how the experience of touring Justice led Metallica to rethink their approach to songwriting, which influenced the tighter arrangements on their self-titled 1991 LP, commonly known as the Black Album.
"Touring behind it, we realized that the general consensus was that songs were too fucking long," Hammett told Rolling Stone of Justice, recalling the experience of performing the 10-minute title track. "Everyone would have these long faces. And I'd think, 'Goddamn, they're not enjoying it as much as we are.' … I can remember getting offstage one night after playing 'Justice' and one of us saying, 'Fuck, that's the last time we ever play that fucking song!'"
Van Halen Albums Ranked
A ranking of every Van Halen album.