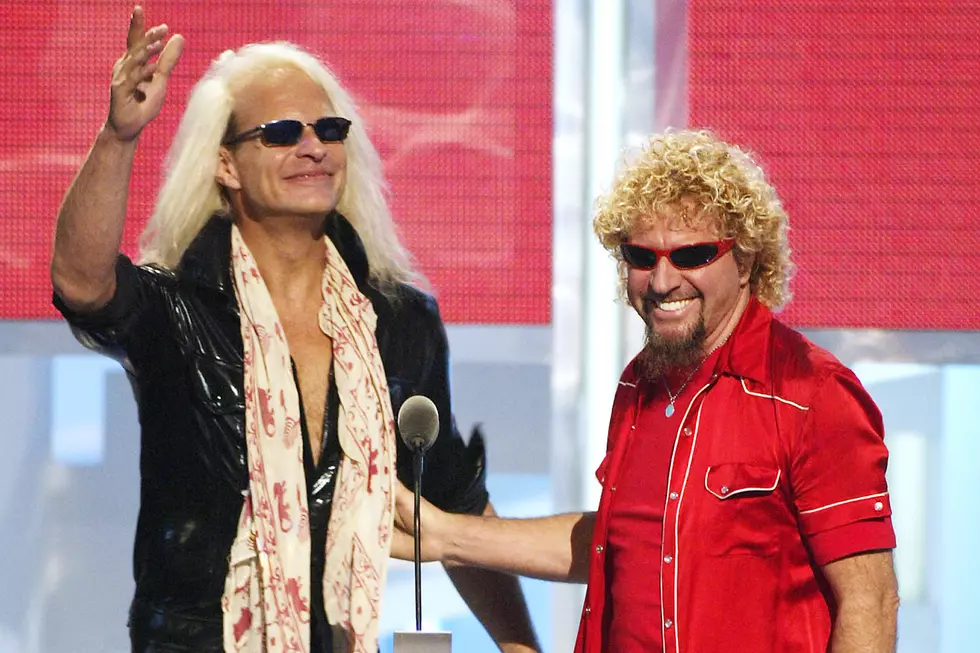 Sammy Hagar Says He Multiplied David Lee Roth's Income by Six
Scott Gries, Getty Images
Sammy Hagar said the double-header tour he staged with David Lee Roth in 2002 multiplied the original Van Halen singer's income by a factor of six.
The road trip saw both vocalists performing on the same stage. Billed as "Song for Song, the Heavyweight Champs of Rock and Roll," it became better known as the "Sam and Dave" tour, but it also garnered a series of negative stories from backstage, with the vocalists failing to connect at a personal level.
In a recent episode of the Steve-O's Wild Ride Podcast (available below), Hagar said that while he'd been enjoying a successful solo career at the turn of the century, Roth hadn't been doing so well. "[H]e wasn't selling out [but] I was selling out arenas. I was selling out amphitheaters," he explained.
"Dave, he had that sort of a big album, one kind of a big album, but he didn't have a solo career. He was playing small places. So when he came in with me, he was making, like, $25,000 a night, I was making $150,000 a night, and they said, 'Oh, you guys are gonna make the same money. Dave gets to make 150.' I said, 'He ain't fucking made 150 in his life except in Van Halen!' But I said, 'I've gotta do this.' So I bent over backwards. And he still always tried to fuck with the rules."
Hagar didn't mince words when further discussing Roth.
"He's not a fun guy. He doesn't play well with others. I'm not sure what his problem is," the Red Rocker declared. "He just always is about, 'How can I make this guy look bad?' And not just me – in life. He's a chest-beating motherfucker. And God bless him, 'cause the early stuff is frickin' great. ... [I thought] he'd be a fun guy to know. But he ain't like that – he ain't like his persona."
While he went on to hail Diamond Dave's showmanship, Hagar also argued that Roth "doesn't care about singing. If he did, he'd take care of his voice or he'd take voice lessons and get warmed up and do something. ... The guy sang so bad last time he was doing shows, it was embarrassing."
Watch Sammy Hagar's Interview on 'Steve-O's Wild Ride Podcast'
The Best Song From Every Van Halen Album
They released a dozen albums over their career. These are the songs for your playlist.