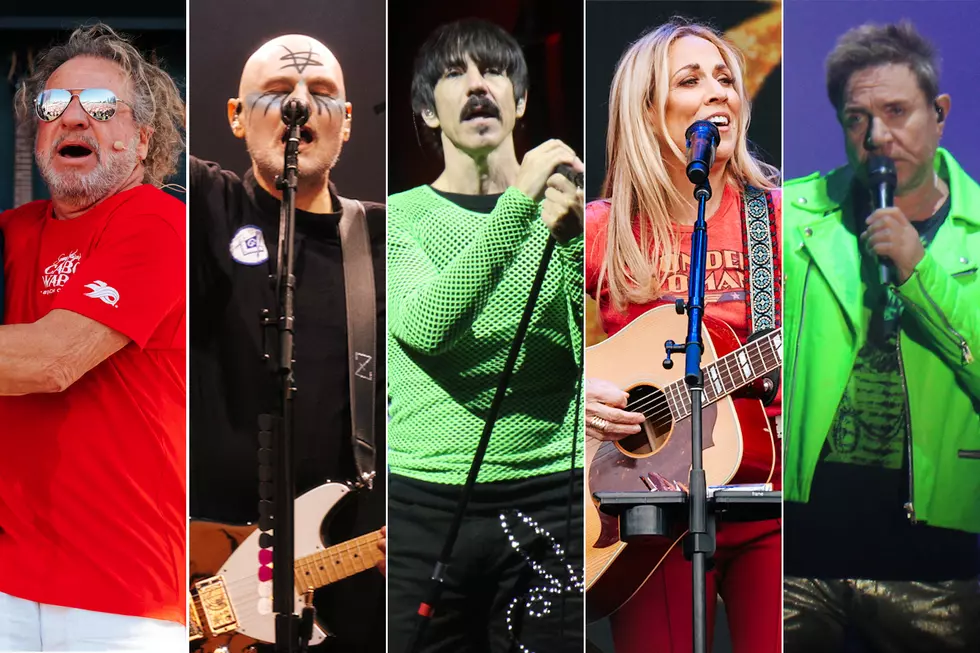 Red Hot Chili Peppers and Smashing Pumpkins Shine at BottleRock
Nicolita Bradley / Eli Lauren / Quinn Tucker / Ryan Hitch
Red Hot Chili Peppers, Duran Duran, Sheryl Crow and Smashing Pumpkins led an eclectic lineup of artists at the BottleRock festival, held over the Memorial Day holiday weekend in Napa, Calif.
Billy Corgan's group was an unquestioned highlight of Friday night. The band is celebrating its 35th year in 2023, and tore through such classic songs as "Bullet With Butterfly Wings," "Today," "Cherub Rock" and "Zero." Smashing Pumpkins also delivered several songs from their recently released rock opera ATUM, the third act of which arrived earlier this month. Despite being scheduled opposite Post Malone, one of the weekend's headliners, they played to an energetic crowd, with thousands of fans enjoying the band's mesmerizing set.
Watch Smashing Pumpkins Perform 'Tonight, Tonight' at BottleRock 2023
Saturday brought with it Nile Rodgers & Chic, who delivered a set mixed with their own hits – like "Everybody Dance" and "I Want Your Love" – as well as selections Rogers has written and produced for other artists. Highlights included renditions of Sister Sledge's "We Are Family," Madonna's "Like a Virgin," Daft Punk's "Get Lucky" and David Bowie's "Let's Dance."
One of the distinctive features of BottleRock is the culinary stage, a unique location where famous musicians and celebrity chefs come together to create delicious food and drinks in front of their fans. Sammy Hagar joined forces there with Chef Jose Andres, making margaritas and cooking up a shrimp dish. Hagar was in fine form, joking and having fun with the James Beard Award-winning chef to the audience's delight.
"It's the coolest thing ever on the planet of rock and roll and food," Hagar told San Francisco Chronicle. "Everyone loves food and chefs are superstars now. They're just like rock stars, so it's a really cool combination."
Even at a time when every act seems to be reuniting, few expected actor Keanu Reeves to revive with Dogstar, his alt-rock band that released one EP and two albums between 1996 and 2000. Nevertheless, BottleRock proved the perfect place for the John Wick star to return to his rock group, as the band blazed through 12 songs during their Saturday set before later making an appearance on the culinary stage.
Watch Dogstar Reunite at BottleRock 2023
Saturday night belonged to Duran Duran, as they dazzled with an incredible set list of greatest hits, along with selections from their 2021 album Future Past. Classics like "Rio" got the crowd dancing, while "Ordinary World" – dedicated to the people of Ukraine – offered a poignant moment within the fun-filled set. The performance marked the group's first U.S. gig of 2023 and served as the launch of their North American tour.
Watch Duran Duran Perform 'A View to a Kill' at BottleRock 2023
On Sunday, the Struts brought a dose of glam-rock swagger to BottleRock during their afternoon performance. Luke Spiller once again proved his prowess as a frontman, dancing, gyrating and posing all over the stage while also delivering emphatic vocals.
Sheryl Crow, fresh off being announced as a 2023 Rock & Roll Hall of Fame inductee, delivered one of the best sets of the festival. She sounded fantastic, providing pitch-perfect vocals while backed by her talented band. Crow's popularity was on full display, as thousands sang along to such memorable hits as "Everyday Is a Winding Road," "If It Makes You Happy" and "Soak Up the Sun." Crow's audience notably spanned generations of music fans, as toddlers in headphones, teens, middle-aged couples and even some senior festival goers all danced along to her set.
Also on Sunday, the National delivered their usual brand of heart-on-your-sleeve indie rock. The band's emphatic set was powered by frontman Matt Berninger and his distinctive baritone voice. Through such highlights as "Bloodbuzz Ohio," "I Need My Girl" and "Mistaken For Strangers," Berninger confidently strode across the stage, effortlessly engaging the throngs of fans glued to his every move.
Watch Red Hot Chili Peppers Perform 'Give It Away' at BottleRock 2023
Red Hot Chili Peppers were given closing honors, performing the final set of the weekend on the festival's main stage. They didn't disappoint, playing many of their most beloved hits during a powerhouse 18-song set. The trio of "Around the World," "Universally Speaking" and "Snow (Hey Oh)" started things off. The band later offered up newer material, like the Eddie Van Halen-inspired track, "Eddie." The last two songs of the evening, "Under the Bridge" and "Give It Away," put the triumphant final punctuation on an amazing weekend of music.
BottleRock celebrated its 10th year in 2023 and has become an annual destination event for music lovers on Memorial Day weekend. Lizzo, Lil Nas X, Bastille, Lupe Fiasco, Wu Tang Clan, Phantogram, War and Mike Campbell & the Dirty Knobs were among this year's other performers.
Duran Duran at BottleRock 2023