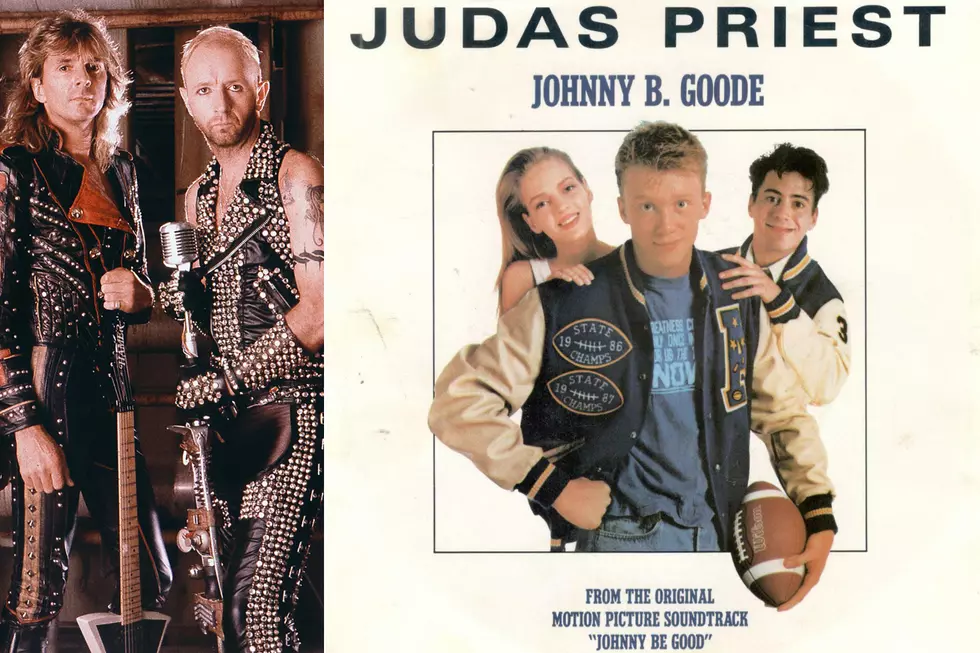 35 Years Ago: Judas Priest Fumbles With 'Johnny B. Goode' Cover
Aaron Rapoport, Corbis, Getty Images / Orion Pictures
Try as you might, you can't reverse-engineer a blockbuster hit or social phenomenon. Judas Priest learned that the hard way when they recorded an ill-fated cover of Chuck Berry's "Johnny B. Goode" for the 1988 box office flop Johnny Be Good.
It wasn't the first time they'd been courted for a movie soundtrack. Two years earlier during the Turbo sessions, a movie company had asked Judas Priest if they could use their song "Reckless" in a humble little project called Top Gun, starring the no-name actor Tom Cruise. They declined the offer and quickly came to rue the decision.
"It would have meant leaving the track off the album, which we didn't want to do, and we didn't think the film sounded like it would be very good," frontman Rob Halford wrote in his 2020 memoir Confess. "So we turned them down. Good move, huh?"
Former guitarist K.K. Downing later surmised that the Top Gun feature could have rocketed "Reckless" up the charts. "It would have been all over the radio, I suppose, if it was in the movie," he told Classic Rock. "We thought 'Turbo Lover' and 'Locked In' were going to do it for us, but they didn't. The tour was very successful, the album was successful, but it wasn't the big-selling album that we hoped for."
See Judas Priest's 'Johnny B. Goode' Featured in 'Johnny Be Good'
Manager Bill Curbishley presented another movie offer two years later, as Judas Priest worked on their Turbo follow-up Ram It Down: writing a song for Johnny Be Good. The R-rated comedy starred Anthony Michael Hall as Johnny Walker, a highly sought-after high school football player fielding offers from many colleges while being pulled in different directions by his best friend Leo Wiggins (Robert Downey Jr.) and girlfriend Georgia Elkans (Uma Thurman).
Having learned their lesson from Top Gun, Judas Priest accepted the offer and produced a metallic rendition of "Johnny B. Goode" for the film. Unfortunately, neither the movie nor the song captured lightning in a bottle like Top Gun and its chart-topping, nine-times platinum soundtrack did. "When I saw the film, I was disappointed by how short our soundtrack bit was," Halford lamented, "and, let's face it, it was no Top Gun."
Whereas Top Gun earned a smashing $180 million domestically and $357 million worldwide, Johnny Be Good grossed a paltry $17 million stateside and earned savage reviews. Judas Priest's "Johnny B. Goode" cover stalled at No. 47 on the Billboard Mainstream Rock chart following its release as a single in April 1988. Ram It Down also performed middlingly, peaking at No. 31 on the Billboard 200 (versus Turbo's No. 17 peak) and limping to gold status.
Judas Priest would reverse their critical and commercial fortunes with 1990's career-rejuvenating Painkiller, and their "Johnny B. Goode" cover would become little more than a footnote on their illustrious career. They were lucky to escape from Johnny Be Good unscathed: The same could not be said for fellow soundtrack artist Ted Nugent, whose "Skintight" earned a Golden Raspberry Award for Worst Original Song.
30 Band Names Taken From Classic Rock Songs
When looking for the right collection of words to label their new groups, musicians often turn to other artists for inspiration.
Was Judas Priest's 'Turbo' Doomed to Fail?