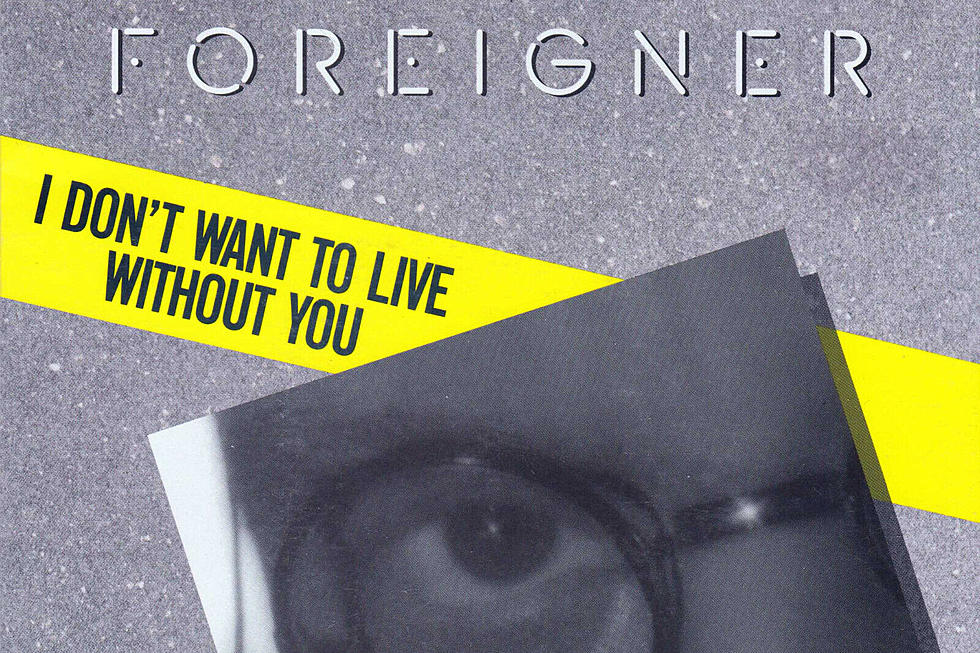 35 Years Ago: Lou Gramm Tries to Sabotage Foreigner's Final Hit
Atlantic
Mick Jones was very proud after he wrote "I Don't Want to Live Without You" during a single night at home. He called it his favorite Foreigner track of them all, adding that the March 1988 single was always an emotional experience to perform.
Sadly, Lou Gramm didn't feel the same way, and their disagreement marked the beginning of the end of the band's classic era.
"At the time it was written, my wife Ann was eight months pregnant, and my mum was in New York visiting with us," Jones said in his 2017 memoir A Foreigner's Tale. "I was sitting with Mum one night, tinkering around on the piano, and came up with this chord structure. The song was pretty much written that evening. The ones that come to me so fast are usually pretty good."
He described "I Don't Want to Live Without You" and 1981's "Waiting for a Girl Like You" as "two most emotionally draining songs that I've ever written. Again, it was that feeling of grabbing something from out of the air and letting it flow through me – and I still have great difficulty playing it without tearing up."
"I Don't Want to Live Without You" appeared on Foreigner's sixth album, 1987's Inside Information. Despite reaching platinum sales, the notably softer LP fell short of the commercial heights of 4 in 1981 or Agent Provocateur in 1984. In truth, it was a minor miracle that Inside Information had been made at all, because the once-indomitable team of Jones and Gramm was already coming apart at the seams.
"Other than vocals, I contributed very little to Inside Information," Gramm admitted in his 2019 autobiography Juke Box Hero: My Five Decades in Rock 'n' Roll. "Mick had already chosen the song ideas, and there was little or no room for contribution. Working for Foreigner had become just that – work. I would basically show up, sing the songs, and put on my hat and coat and leave."
Gramm described the situation as "punching the clock, just like I had done so many years ago when I was working in a furniture store in Rochester. Making music with Mick and Foreigner was no longer my passion; it was my job. … My vocals were on Inside Information, but my soul wasn't. I definitely felt as if my days with Foreigner were coming to an end. And to be honest with you, I couldn't wait."
Watch Foreigner's Video for 'I Don't Want to Live Without You'
Hits like "I Want to Know What Love Is" and "Waiting for a Girl Like You" had helped Foreigner develop something of a reputation for making soft rock. Gramm suspected it was becoming a chosen direction and wasn't happy about it.
"I felt that a good strong ballad or an easy listening song was something that should come periodically in the band's life," he told UCR in 2015, "but I was feeling that it actually was a direction that we were heading towards at that point and I was vocally very resistant. … If you place [a slower song] between a couple of rockin' songs, it's a good thing, but if you're doing an album of songs like that? I was very reluctant to be a part of that."
Jones insisted, however, that the situation was entirely accidental. "To me, it was just showing another side of what we could do," he told UCR in 2013. "The band was committed to breaking new frontiers with every album that we made. … Just because the Beatles did 'Yesterday,' I don't think they became known as a ballad band per se."
On top of these songwriting strains, Gramm felt abandoned when Jones "disappeared for long stretches of time" after the Agent Provocateur tour. Jones argued that the abandonment had actually come from Gramm, who released his debut solo album Ready or Not the same year that Inside Information arrived.
"Undeniably, it makes things difficult when a singer decides to go off and make a solo album," Jones said. "Lou's album sounded to me very much like a Foreigner record. … I couldn't help but take it personally, and felt a bit offended at hearing my style being played by other people on his album."
Jones argued that he'd been as accommodating as possible: "Earlier in the year, we'd begun rehearsals for the new album, but suspended them while Lou went on tour to promote his solo album. When that finished and we started again, Lou would drive down to New York from where he lived out in the country … and be in and out of the studio as quickly as he could. I think he would have preferred it if he could have done his parts by phone."
He accepted that a singer's voice usually gave a band its identity, but "ultimately, I was convinced that [Ready or Not] was going to break up the band and in doing so, risked throwing away everything that we had created over the previous 10 years. … Lou and I could be the best of friends on occasion, but I always had a feeling that he didn't entirely trust me – and that hurt a lot."
Watch Mick Jones Discuss 'I Don't Want to Live Without You'
Perhaps an intervention or even just a nice chat among friends could have saved the situation – but nothing like that seemed to happen. Instead, both continued work on what they suspected would be their final record together – and "I Don't Want to Live Without You" became the stick they beat each other with.
"Mick was all excited about it, but I thought it stunk to the point that I didn't even want to sing it," Gramm said. "So when it came time to record it, I under-sang it – no little twirls, no passion, no Lou Gramm vibe to it. And wouldn't you know it, despite my efforts to sabotage the blasted song, it shot all the way up the charts to No. 5."
"I Don't Want to Live Without You" became the Foreigner's final Top 10 single, and their only No. 1 on the adult contemporary chart, but its success didn't help matters. Gramm recalled telling his manager: "This album is not a Foreigner album. This is a Mick Jones album. This is the direction he wants to go. This isn't a group effort. Artistically, I was given crumbs. I was basically shut out of being a creative member of this band, so I see no reason to promote. I don't even like the finished product. I feel no connection with it at all."
Gramm eventually stepped away from his refusal to tour, but he still felt the subsequent road trip "was nothing like the tours Foreigner had been accustomed to, either in scope or duration. The excitement we had generated with our early albums was continuing to wane. I just didn't like this new easy-listening rock group that we had become."
He finally pulled the plug in 1990, quitting Foreigner and announcing plans to focus on his solo career. Gramm would rejoin two years later, but the group's blockbusting days were over. The years have provided new perspective, Jones admitted.
Gramm may have been "completely divorced from me on Inside Information," but Jones said "his input was missed in every respect." In the end, he said Gramm "wasn't completely to blame for the split. Towards the end of that era of the band, I suppose that it had gotten to be me exclusively running the show. Over the years, Lou had grown increasingly frustrated that he wasn't involved more in the production process, and in hindsight he probably could have been. Back then, though, I was convinced that my way was the right way."
Meet the New Boss: Rock's Replacement Singers
Some bands soar to their greatest heights after an original frontman leaves. Others must deal with the past's towering expectations.
Real-Life 'Spinal Tap' Stories: Foreigner