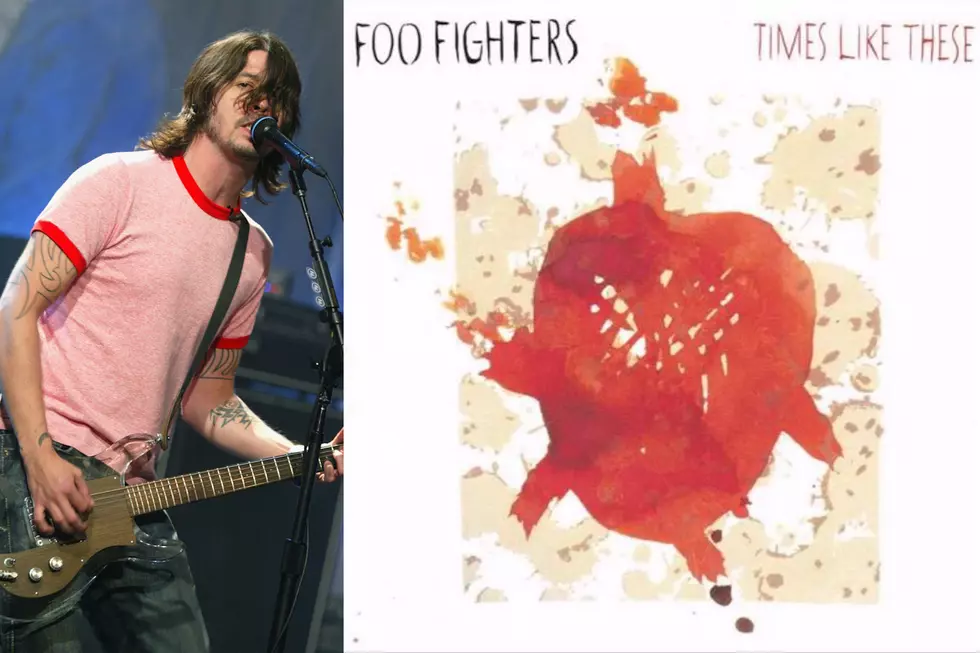 Why 'Times Like These' Could Have Marked the End of Foo Fighters
Kevin Winter, Getty Images / Roswell / RCA
"Times Like These" became one of Foo Fighters' defining tracks. That's poetic, considering they nearly broke up while recording it.
Initial sessions for the band's fourth album, One By One, were strenuous. Despite the success of their first three LPs, Foo Fighters were still struggling to find their distinctive sound. Personal issues – such as frontman Dave Grohl's divorce and Taylor Hawkins' 2001 overdose – hung over the sessions.
Guitarist Chris Shiflett, who'd joined the Foos in 1999, sensed an uneasiness among his bandmates. "It was very confusing, for me," he confessed years later to Apple Music. "I was like, 'What is happening? This is the weirdest record I ever made.'"
The late Hawkins said "we were just still trying to figure out how to be a band still. The record that we made just sounded sort of phoned in."
Months earlier, Grohl had recorded drums for Queens of the Stone Age's third album, Songs for the Deaf. Those sessions were a far more enjoyable experience than what he was suffering through with Foo Fighters. Frustrated with the situation, Grohl decided to shelve the LP.
Soon afterward, he informed his bandmates that he'd accepted an offer to go on tour with Queens of the Stone Age, a move that caught the other Foo Fighters off guard. "It felt like we were in limbo," bassist Nate Mendel admitted to Kerrang.
Hawkins was especially hurt by Grohl, who had been there as he recovered from the overdose. The drummer was still working through his issues, and Grohl's decision felt like abandonment during a time of need.
"I just went through this awful trauma and I was supposed to be happy that Dave was having such a good time (with Queens of the Stone Age)," Hawkins recalled in the documentary Back and Forth. "But I wasn't. I wasn't fucking happy for you to go play with another band. Why should I be happy for that?"
Watch Foo Fighters' Music Video for 'Times Like These'
Foo Fighters still had a performance scheduled for the 2002's Coachella festival, a commitment they felt obligated to honor. While rehearsing for the gig, Grohl played the band his fledgling concept for "Times Like These." This coincided with one of the biggest fights within the group.
"Literally, the first time we ever played it was at a rehearsal at Mates (rehearsal studios)," Shiflett later recalled, "and we all got in a huge argument. And it was maybe the closest the band actually ever really did come to breaking up."
Hawkins recalled Grohl telling him: "You're a fucking asshole, and if you don't like it, you can fucking leave." He said he would. "As soon as we play Coachella, and we finish this record, do whatever commitments we have, then I'm out of here," Hawkins replied. "If the Foo Fighters are over, the Foo Fighters are over. And I'm OK with that."
As fate would have it, the Coachella gig helped quell tensions, as they delivered an electrifying performance. Foo Fighters then opted to take a breather, going their separate ways for a while. During this cool-down period, Grohl reflected on his bandmates. Rumors circulated that the Foo Fighters' hiatus may become permanent, but in actuality it helped remind the Grohl of how much he valued his comrades.
He channelled those emotions into the lyrics. "'Times Like These' was basically written about the band disappearing for those two or three months and me feeling like I wasn't entirely myself," Grohl explained in the Back and Forth documentary. "I just thought, 'OK, I'm not done being in the band. I don't know if they are, but I'm not.'"
When Foo Fighters reassembled, things immediately clicked: One By One was recorded in just 12 days. Released as the album's second single on Jan. 14, 2003. "Times Like These" quickly became a hit, reaching No. 5 on both the alternative and mainstream rock charts. Its popularity helped push One By One to multi-platinum sales.
Decades later, the song would also help the band persevere through their darkest moment. Grohl organized a star-studded tribute concert in London following Hawkins' tragic 2022 death. Foo Fighters performed that night with a series of guests, then took the stage in earnest for the first time without their departed drummer. The first song of the set was an emotional and ultimately cathartic rendition of "Times Like These."
Foo Fighters Albums Ranked
From the one-man-band debut to their sprawling, chart-topping classics, a look at the studio releases by Dave Grohl and band.
Heart's Ann Wilson Discusses the Rise of the Seattle Scene