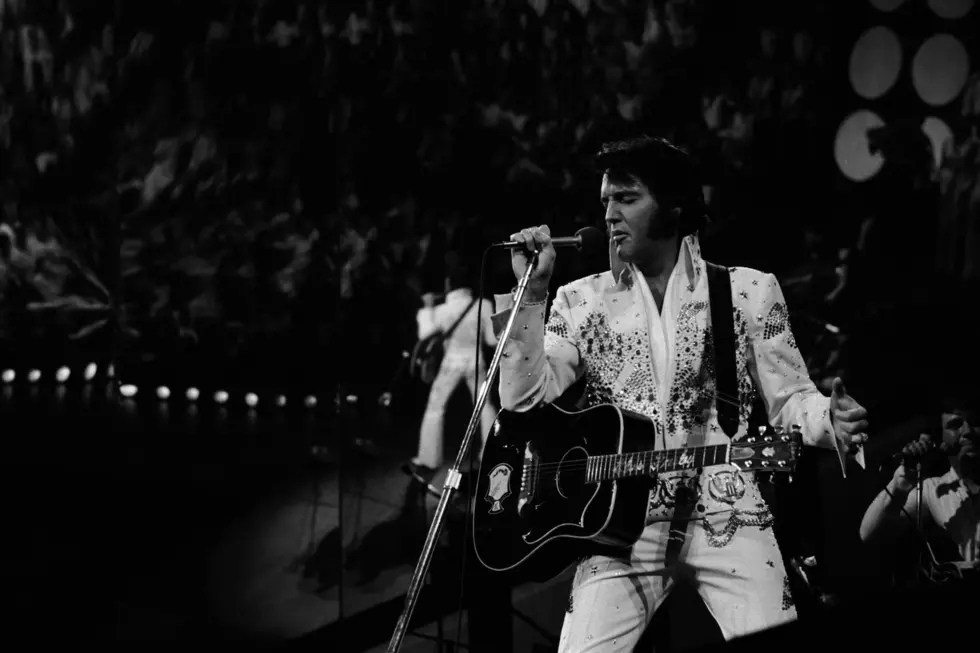 50 Years Ago: 'Aloha From Hawaii' Becomes Elvis Presley's Last Shot at Greatness
Gary Hull, NBCUniversal, Getty Images
Elvis Presley's final years were marked by personal and professional turmoil, with sloppy, drug-fueled performances that showed a legend in decline. But on Jan. 14, 1973, the King enjoyed one last indisputable moment of greatness when he staged his triumphant Aloha From Hawaii Via Satellite live concert broadcast.
After a seven-year hiatus from performing, Presley made a glorious return to the stage with his 1968 comeback special. He kicked off a Las Vegas residency at the brand-new International Hotel the following summer, and he toured the United States over the next several years.
Presley also received several lucrative offers to perform overseas but his manager, Colonel Tom Parker, shot them down, ludicrously claiming there weren't large enough venues to host him. The truth was that Parker, a Dutch-born undocumented immigrant, didn't have a passport and didn't want Presley to travel abroad without him. As Presley increased his drug intake, Parker also doubted his star's physical fitness and worried that he wouldn't be able to keep any drug-related mishaps out of the press.
If Parker wouldn't bring Presley to international audiences, then he would do the next best thing: bring international audiences to Presley. In mid-1972, the Colonel began arranging a concert at Hawaii's Honolulu International Center that would be broadcast around the world via satellite.
Parker, a world-class propagandist, touted it as the first entertainment special to be broadcast worldwide, and a press release from RCA Records boasted that the special would be viewed by an "audience in excess of 1 billion people." Both claims were dubious.
In reality, the special was only broadcast live in roughly three dozen countries throughout Asia and Oceania, whose cumulative populations totaled about 1.3 billion people. (It aired with a delay in Europe, and it didn't air in the United States until that April.) Aloha From Hawaii also wasn't the first internationally broadcast entertainment special, as the 1967 Our World program predated it by nearly six years. It was, however, the first live satellite broadcast to feature a single performer.
Watch Elvis Presley Perform 'My Way' in 'Aloha From Hawaii'
Inflated claims notwithstanding, Aloha From Hawaii Via Satellite was still a momentous occasion for Presley, who wanted to be in tip-top shape for the performance. Producer and director Marty Pasetta minced no words in his meeting with the King, where he outlined his vision for the show.
"I said, 'I went to see you per NBC's request in Santa Monica,'" Pasetta recalled years later. "'Your music is outstanding, but let me tell you something: You weren't exciting. It was boring – and I don't know what I am going to do with you for an hour and a half, but I have an idea.'"
Pasetta then presented drawings of the stage, while Presley's bodyguards "took out two silver-plated guns and put them on the table." His name would be lit up in neon in the language of every country where the special was set to air, along with a runway flanked by women wearing leis. But first, Pasetta said Presley had to lose weight.
"He jumped up. And I said, 'If you do all this, we're going to have a good show,'" Pasetta remembered. "He threw his hat and glasses away, left his coat and ran over to me, grabbed me [and] hugged me. And he said, 'You're the first person who's been honest with me.' He said he would lose weight, and he lost 25 pounds. We became lasting friends until the day he died."
Pasetta's predictions proved true. Presley took the stage shortly after midnight on Jan. 14, 1973, before an audience of roughly 6,000 fans who had donated to the Kui Lee Cancer Fund because Parker could not charge a televised audience for admission. The King's 22-song set list featured early classics and covers such as "Hound Dog" and "Blue Suede Shoes," latter-day hits like "Burning Love" and "Suspicious Minds" and thunderous renditions of "My Way" and "Can't Help Falling in Love."
The accompanying Aloha From Hawaii live album, released the following month, gave Presley his last Billboard chart-topper and eventually sold 5 million copies in the U.S. The special marked the last time Presley was truly on top of the world and in command of his abilities. Even if it likely wasn't seen by anywhere near 1 billion people, it was an unquestionable victory for the King.
'Elvis': Cast and Characters
See Elvis Presley in Rock's Craziest Conspiracy Theories