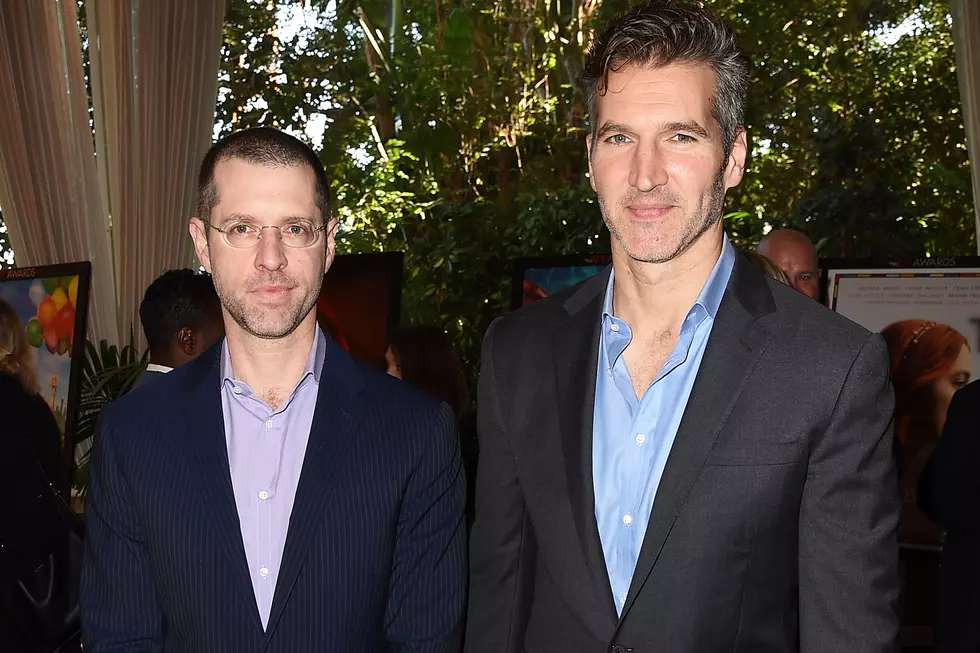 'Game of Thrones' Creators No Longer Making 'Star Wars' Movies
Kevin Winter, Getty Images
David Benioff and D.B. Weiss have left the galaxy far, far away.
According to Deadline, the writing/directing duo — who created Game of Thrones for HBO — have "walked away from" their deal to create the first post-Skywalker Saga movie trilogy in the Star Wars universe:
Benioff and Weiss were supposed to usher in the post-Skywalkera era of the Star Wars brand with a 2022 new-start story that would stake out a new frontier for the era-defining cinema brand created by George Lucas. The Emmy-winning pair cited their historic deal with Netflix. They said their enthusiasm for Star Wars remains boundless but, regrettably, their schedule is full up.
Benioff and Weiss said in a statement that "Getting to talk about Star Wars with [George Lucas] and the current Star Wars team was the thrill of a lifetime, and we will always be indebted to the saga that changed everything." And Lucasfilm President Kathleen Kennedy said "David Benioff and Dan Weiss are incredible storytellers. We hope to include them in the journey forward when they are able to step away from their busy schedule to focus on Star Wars." Benioff and Weiss signed a massive deal with Netflix earlier this year and claimed it was too difficult to focus on both projects at the same time.
This leaves Star Wars with no clear path forward after The Rise of Skywalker this December. There are some other potential movies we know are in development, including Rian Johnson's possible Star Wars spinoffs, and maybe a new series produced by Marvel's Kevin Feige. But Johnson's been doing interviews lately where he did not speak with great confidence about his movies happening. And the Kevin Feige news only broke recently; Benioff and Weiss were supposed to release their Star Wars in 2022.
It's going to be an interesting time for Star Wars fans coming up real soon. But hey, I guess if you hated the final season of Game of Thrones this is good news!
Gallery — Every Star Wars Movie Ranked From Worst to Best: