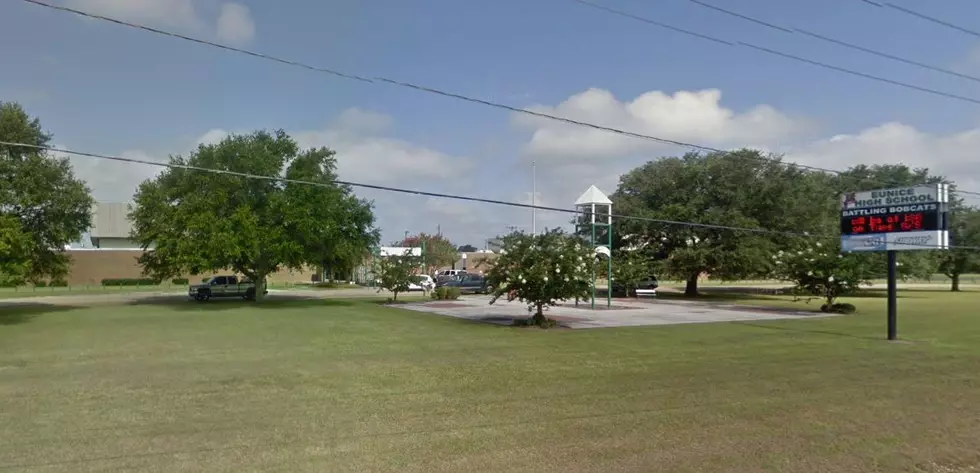 Eunice High Campus Temporarily Closed Over COVID Concerns
Google Maps.Google Streetview
In-person learning at Eunice High School has been temporarily suspended following a reported outbreak of COVID-19 at the school. Eunice High School Principal Mitchell Fontenot sent a letter home to parents yesterday announcing the closure after it was learned that a staff member at the school had tested positive for the disease.
The letter from Principal Fontenot stated that the campus would be closed "out of an abundance of caution" until at least November 4th. Staff and students will not be allowed in the building until a thorough cleaning has been performed. Students and faculty will not be dismissed from classes though as the curriculum will continue through remote instruction and virtual classes beginning this morning.
As far as quarantine restrictions are concerned only the individuals who have already been contacted personally by the Louisiana Department of Health or the school nurse will be required to sequester at home. Should any student or staff member test positive for COVID-19 they are asked to report that information to Nurse Callie Schouest by calling (337) 457-5895 or Nurse Sylvia Brown by calling (337) 948-3646.
Arrangements are being made by the Child Nutrition Department to provide Grab and Go Meals for Eunice High Students. More information on distribution will be provided to students and parents later this morning.
Principal Fontenot says that plans for reopening the school will be based on data and the number of COVID-19 cases in the Eunice area. By the way, COVID-19 testing by the Louisiana National Guard and the Office of Public Health will be available on Friday, October 30th from 8 am until 3 pm in the Eunice High School Parking Lot.
Seven Tips For Successful Virtual Learning