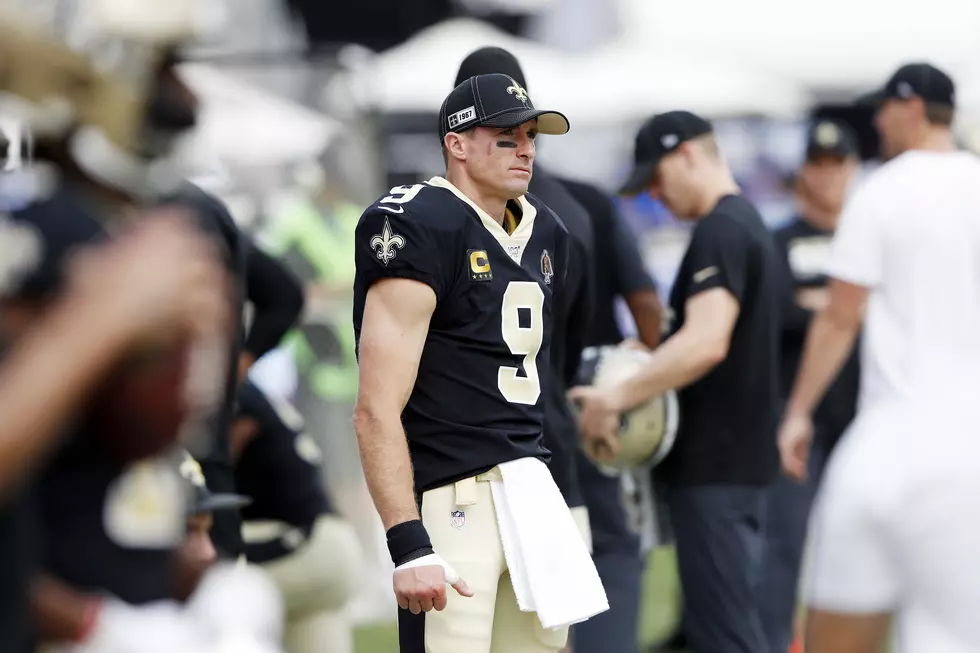 Brees To Meet With Specialist For Hand Injury That Felt 'A Bit More Significant'
Sean M. Haffey, Getty Images
Drew Brees will be seeing a specialist about his injured hand.
The Saints quarterback injured his thumb on his throwing hand midway through the first quarter after colliding with Rams defensive lineman Aaron Donald. Brees would head to the sideline to get the hand wrapped, but he never came back into the game.
As a matter of fact, he didn't even pick up a football. Brees was clearly in a lot of pain and after the game, he elaborated on the injury.
You're hitting your hands on stuff all the time — helmets and different things. You might get jammed thumbs, jammed fingers, different things where it swells up and what have you. But this felt like it was something a bit more significant that prevented me from gripping the ball.
Brees, much like the rest of the Who Dat Nation, is "hoping" the injury is "not too significant."
Payton wasn't too detailed in his post-game press conference as he gave fairly vague answers.
It was a thumb (injury). Right away, when he attempted to throw, he was having pain with it. It wasn't anything elaborate. I'm sure we'll go through the whole medical procedure and we'll give you an update in two days.
The Saints head coach also elaborated on the disappointing loss.
The last time Brees missed a game due to injury was a 2015 Week 3 game against the Panthers in Carolina. It was the only time Brees missed a game during injury since signing with the Saints in 2006.
It's very difficult to not be playing. I'm not used to that. Don't want to get used to that.
Teddy Bridgewater played the rest of the game and will likely be the starter when the Saints play the Seahawks next Sunday at 3:25 p.m. unless we get some really good news about Brees' thumb.
Let's hope it isn't that serious.