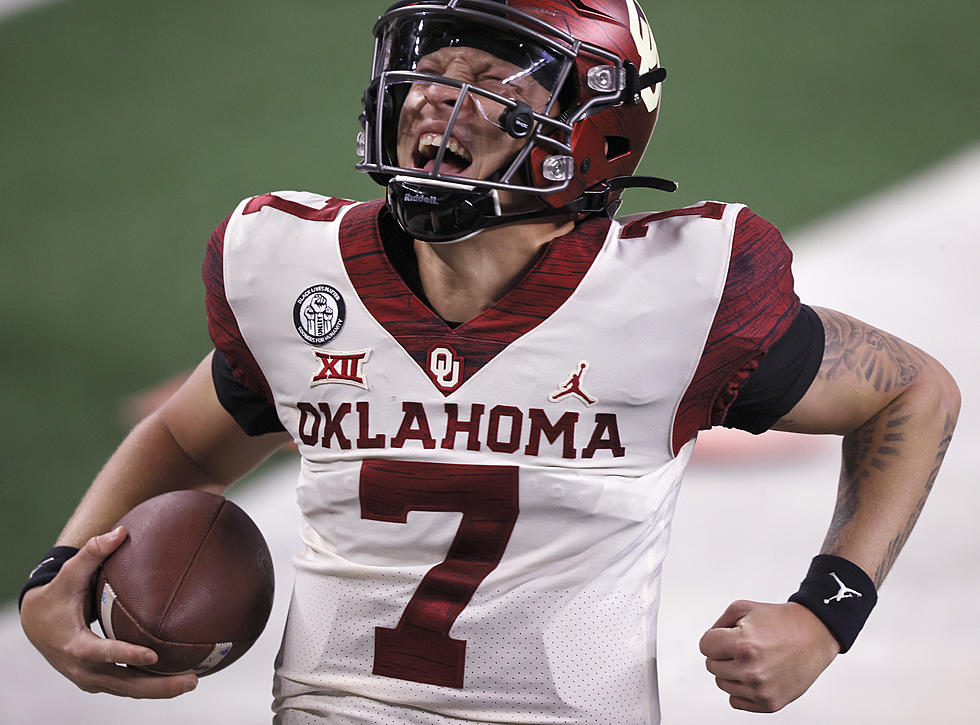 Could A Former Heisman Favorite Transfer Into LSU
Photo by Tom Pennington/Getty Images
The LSU football team has their new Head Coach with Brian Kelly, which means there could be a lot of other "new" parts of the program too.
There are a ton of reports surfacing that Kelly is trying to bring his Offensive and Defensive Coordinators along with him to Baton Rouge. But it might not just be a coaching staff that Kelly looks to turnover quickly.
College football teams aren't like NFL teams. When a new coach comes in, he has to use the majority of the players he already has on a roster. Even though Brian Kelly didn't recruit the LSU roster, he will have to coach with them. But he can make some changes to key positions, quickly, that could put his stamp on the roster.
See, unlike college basketball, freshmen don't normally start on college football teams. In fact, freshman rarely contribute to college football teams at all. Most will redshirt their freshman year, and take a whole season to accommodate to college life, college weight training, and the college game. So Brian Kelly can't even recruit his way into a new roster between this year and next.
But with the recent changes to the NCAA Transfer Portal, it has made it so established players in the college game can have an easier path to a new school, and new team. Which brings us to the player who Brian Kelly could look to bring to Baton Rouge with him...Spencer Rattler.
No, Spencer Rattler wasn't a player at Notre Dame with Kelly. He was the quarterback who started the season leading the Oklahoma Sooners, and the Heisman predictions. But Rattler lost his way during the season in Oklahoma, and eventually lost his starting spot to Caleb Williams. Then last week, Rattler lost his coach too, as Oklahoma Head Coach Lincoln Riley left to go out west to take over USC.
Rattler then entered the NCAA Transfer Portal to look for a new school.
Back in 2020, Rattler was named the starting quarterback at Oklahoma. That seas he started all 11 games for Oklahoma, leading them to a Big 12 Championship, and Cotton Bowl victory. Rattler threw for over 3,000 yards with 28 touchdowns to just 7 interceptions. That record and stat-line earned Rattler the position as favorite for the Heisman Trophy going into the 2021 season. Even though we know that didn't work out.
However based on his previous play, everyone knows Rattler has the talent. So now he obviously just needs a change of scenery.
This is where our two paths may cross.
Brian Kelly may want to add some extra juice to his LSU roster right away, and Spencer Rattler might be looking for a big time offensive coach to help him rekindle some of his star power. Kelly's Notre Dame did recruit Rattler when he was in high school, going as far as making him an offer.
Slamming these two together in Baton Rouge just might work. Then again, maybe Kelly doesn't want this.
Because Spencer Rattler will bring circus-like attention wherever he goes. The ESPN/Fox Sports train will pull in close behind Rattler, because he's a story. Former Heisman front runner who got benched, then transferred, now in a new home...this is what those people live for. If he's matched up with a big name new coach at a blue-blood program like LSU, you might see ESPN build a campus in BR.
Its also not like LSU doesn't have quarterbacks on their roster either. For all of the issues people may have had with former LSU Head Coach Ed Orgeron, you couldn't talk poorly about his recruiting...the cupboards are not bare at LSU.
Max Johnson showed grit on multiple occasions for the Tigers this year. There were games where he was just beaten up, and he kept coming back for more. He threw for over 300 yards in 5 games this season, with 27 touchdowns to 6 interceptions. His passer rating on the season was 144.4 during LSU's 6-6 run to bowl eligibility. He did all of that while having his weapons go down all year, having Coach O's status hanging over him, and pressure off the bench from freshman Garrett Nussmeier.
So let's talk Nussmeier. He got into some games, and had flashes of his talent on the field for LSU this year, but ended up taking a redshirt year. That means he still has 4 years of eligibility left. When he did get on the field, he showed some skill. Racking up 329 yards and two touchdowns over 57 passing attempts. His sparked kept LSU in the game against Arkansas, even though the Tigers ended up losing in OT. There's talent in this arm.
Johnson and Nussmeier both have NFL blood in their veins. Johnson's father is Brad Johnson, the Super Bowl winning NFL quarterback, with Nussmeier's dad Doug played for the New Orleans Saints and Indianapolis Colts, before becoming a coach. He's currently the Quarterbacks Coach for the Dallas Cowboys.
But maybe the biggest piece Kelly is looking at is incoming freshman quarterback Walker Howard.
The 5-star recruit is a Lafayette, Louisiana kid who played his high school football at St. Thomas More, and committed to LSU over Notre Dame. Brian Kelly's Notre Dame. Meaning Howard knows Brian Kelly very well, and Brian Kelly obviously liked what Howard's skillset could mean in his offensive scheme.
So does LSU need Rattler? Probably not. But would it make another big splash for the Tiger's program...absolutely.
LSU's Top QBs Not Named Joe Burrow
19 Facts About Shreveport's Centenary College Football Program
Centenary College in Shreveport was once home to one of the biggest college football powerhouse programs in the country.
Shreveport Mudbugs Promotional Calendar For 2021-2022 Season