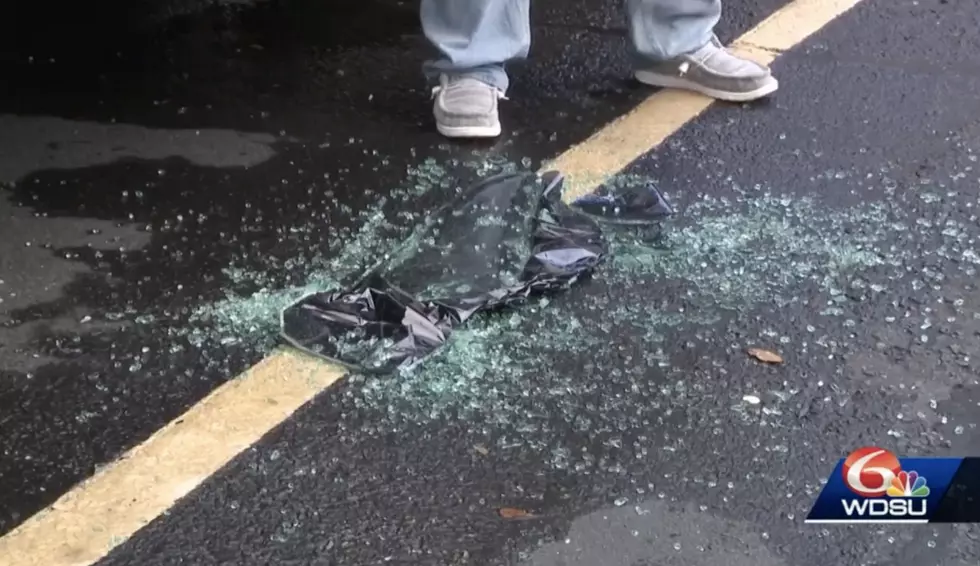 More Vehicles Broken Into, Guns Stolen in Broad Daylight While New Orleans Saints Fans Attend Game
WDSU
Less than a week after NOPD promised to get the break-ins under control around Saints-Pelicans games, frustrated fans were met with broken glass when they returned to their vehicles on Sunday.
WDSU's Cassie Schirm posted photos and video from some of the most central paid parking lots near the Caesars Superdome after the Saints-Panthers game on Sunday. Lots in the New Orleans Central Business District (CBD) with parking priced as high as $50 had vehicles with windows smashed and, in some cases, guns were stolen from them.
From parking lots located near the Amtrak train station to lots located between Poydras and Lafayette Street (not far from Walk-On's) fans found themselves delayed from leaving the CBD while waiting for police officers to file reports on their vehicles that had been burglarized.
Schirm shared some of the images on her official Twitter account.
Last week, there was a report that the NBA and NFL had "concerns" about the alarming amount of break-ins directly surrounding the Smoothie King Center and the Caesars Superdome. In a Thursday briefing, Interim NOPD Superintendent Michelle Woodford acknowledged that the Saints & Pelicans did reach out directly to the department in regards to the increased break-ins.
They reached out to us, the Pelicans organization, and also the Saints organization ... We are going to redeploy those in the 1st district and the 8th district around every special event that we have to ensure that that won't happen again with auto burglaries.
This message came on the heels of reports of "numerous car windows" being broken near the Superdome during the Sugar Bowl game last two Saturdays ago (Dec. 31).
Unfortunately, NOPD has seemingly failed to deliver on its promise to crack down on the incidents as numerous fans were victims of break-ins, theft, and vandalism on Sunday. I personally know people who have had their entire vehicles stolen in broad daylight while attending a Saints game.
Even worse, when break-in victims call 911 to report their incidents, they're often met with a message to call back at a later date or directed to file a police report online after being told that the depleted New Orleans Police Department is busy dealing with more serious crimes and issues throughout the city.
While some would maybe suggest parking in a legit public lot with plenty of foot traffic and activity nearby, it should be noted that the majority of these victims are having their vehicles broken into in the middle of the day as thousands of people are nearby less than two blocks from the Superdome and the Smoothie King Center.
This is also the latest in a city and an administration that has come under fire for failing to get a grip on the brazen crime that continues to terrorize local residents and make out-of-towners think twice before visiting New Orleans for events and fun weekend getaways.
For what it's worth, NOPD announced that they were able to make arrests related to Sunday's break-ins, crediting the increase in deployed directed patrols for the swift apprehension of those responsible.
Will the swift arrests help to decrease the number of break-ins in the CBD and throughout New Orleans? Do quicker arrests of those responsible make things any better for victims if the number of actual crimes isn't going down?
Hopefully, we find that answer a lot sooner than later.
25 True Crime Locations: What Do They Look Like Today?
Below, find out where 25 of the most infamous crimes in history took place — and what the locations are used for today. (If they've been left standing.)