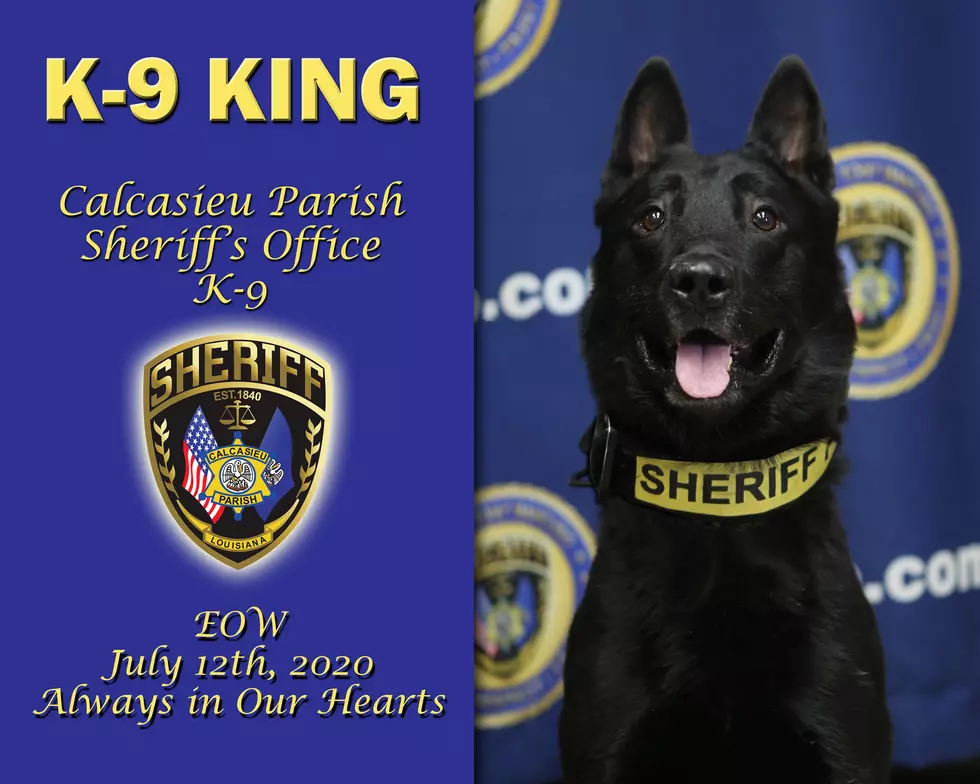 Calcasieu Sheriff's Office to Hold Memorial for K-9 King
K-9 King Memorial (Photo provided by CPSO/Kayla Vincent)
The Calcasieu Parish Sheriff's Office has announced they will be holding a memorial service for their K-9 dog, King, this Tuesday, July 28 at Johnson's funeral home in Lake Charles.
King was a seven-year-old Belgian Malinois who had worked for Calcasieu Parish Sheriff's Office (CPSO) the last four years. K9 King died in the line of duty on Sunday, July 12, 2020.
King and his handling officer, Sr. Cpl. Chris Duhon, were searching for a domestic violence suspect who fled the scene of a crime, and King was tracking the suspect.  Unfortunately, during the search, K-9 King suffered from complications due to heat exhaustion and passed away.
K-9 King was cremated, and his ashes were given to his handler and his family.to cherish in his memory.
The service is slated to start at 7:50am and according to Kayla Vincent with the CPSO,
The procession will travel north down Lake Street to I-210 eastbound and exit onto Broad Street; it will then proceed east on Broad Street until it reaches the CPSO K9 Facility, located at 5400 E. Broad Street behind the Calcasieu Correctional Center.  Following the procession will be a memorial service beginning at approximately 8:00 a.m. for King with full honors, including 21-gun salute and TAPS.
Thank you to K-9 King for your service and to all the brave men and women of the department who sacrifice every day to keep Southwest Louisiana safe. You are true heroes.
Enter your number to get our free mobile app
Fallen Heroes of the Calcasieu Parish Sheriff's Office