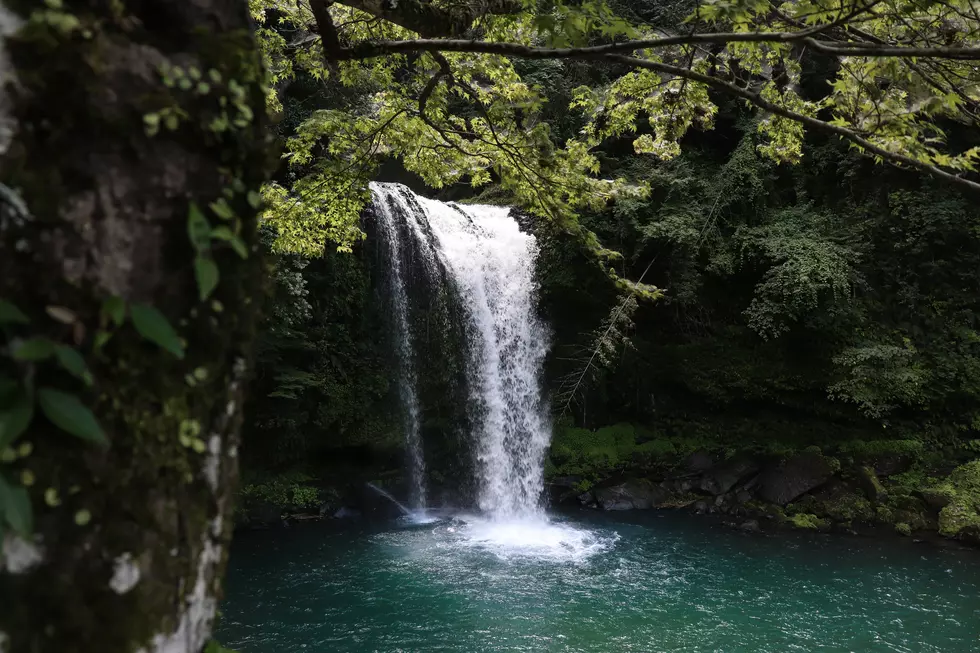 5 Louisiana Waterfalls That Are Less Than a Day's Drive Away
DEAR via Unsplash.com
When you think of Louisiana you don't usually think of waterfalls. I know I didn't but after doing a little research on the subject I found that waterfalls actually do exist in The Bayou State. Usually when you think of "water in Louisiana" you don't think of it cascading down a mountainside. Probably because we don't really have mountains but we do have some places that are worthy of a visit if you're a waterfall chaser.
Because Louisiana's topography is so flat compared to other states in the nation you might be wondering "what constitutes a waterfall"? Apparently, all you need to have a waterfall is this, a point in a river or stream where water flows over a vertical drop or series of steep drops.
When compared to major waterfalls such as Iguazu Falls in Argentina, that's it pictured above, or Niagra Falls on the US-Canadian Border our Louisiana waterfalls might seem like a very small trickle. But remember the waterfalls of Louisiana are a day trip away. Iguazu Falls and Niagra will require a lot more time and expense to view.
Louisiana's highest waterfall is Rock Falls. It's located in Catahoula Parish in the northeastern part of the state. You'll find the multi-tiered falls in the J.C. "Sonny" Gilbert Wildlife Management Area.  Here's what it looks like.
Another waterfall for you to consider in Louisiana, well in Louisiana and Mississippi is the one you'll find at Clark Creek Natural Area. It's located on the border of the two states near Woodville Mississippi. Basically, it's where the southwest corner of Mississippi meets Louisiana at the Mississippi River. Here's an idea of what that waterfall looks like.
Tunica Hills Waterfall is another one of Louisiana's "shared" waterfalls. Tunica Hills is located about an hour north of Baton Rouge. The area surrounding the falls offers a lot to do outdoors and it's a favorite place for those who love to camp. Here's an idea of what to expect when you get to Tunica Hills.
Now let's jump to the western side of Louisiana for our next waterfall. Our journey now takes us to Hodges Gardens is near Florien Louisiana and the facility is more widely known for its holiday lights than it is for its waterfall. But still, the waterfall is quite unique and interesting and I bet it's even more alluring when the holiday lights are up too. Here's an idea of what you can expect when you visit Hodges Garden.
Kisatchie Falls is next on our list. It's located in the Kisatchie National Park in the central part of the state. If you think Pineville/Alexandria then you're thinking in the right place. There appears to be some disagreement as to whether or not Kisatchie Falls is actually a waterfall. It's more of a "class 2 rapids" according to some guidebooks but it's still pretty interesting to see. Here's a taste of what you'll find when you go.
Of course, these aren't the only waterfalls that you can find in Louisiana. There are actually quite a few places where the sound of falling water can lull you into a peaceful state of mind. And, isn't that peaceful state of mind what we're looking for when we go out "chasing waterfalls"?
If you'd like to see some other options and get a closer look at some of the waterfalls we've already mentioned, there's a really cool video you can check out right here. 
LOOK: 23 astronomical events to look out for in 2023
Sta



cker
compiled a list of 23 astronomical events to observe in 2023 using a variety of news and scientific sources.
Gallery Credit: Martha Sandoval